Britannia Out of School Care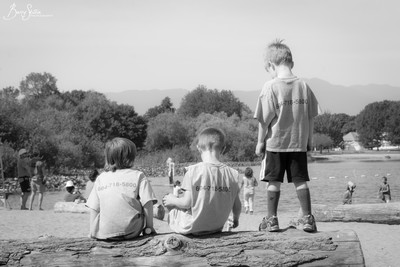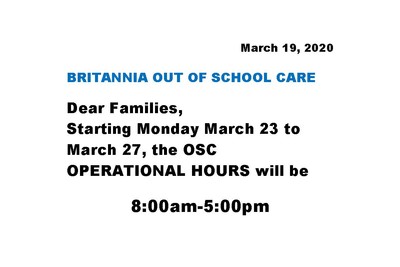 Britannia Out-of-School Program Britannia Out of School care is a licensed childcare program that provides care for children from ages 5 to 12 years. Our program offers the opportunity to create, explore and socialize in an inclusive, fun, safe and nurturing environment. Our play-based programs are designed to foster independence and confidence in a family-centred setting. Our program strives to develop and implement an integrated and comprehensive continuum of services for children and families that reflect the community we serve. Qualified educators offer a value-based program that focuses on our children's interests, ages and developmental needs.
Britannia Out of School Care
Please call 604.718.5843 for registration and waitlist information.
Welcome!
For your reference:
   - OSC Contact Telephone Numbers
   - Nut-Free Zone Bulletin
   - Childcare Parent/Guardian Manual 
   - Pre-Authorized Account Debit (PAD)
Out of School Care (5-12 yrs)
We have two separate rooms:
*Child Care room (located by Grandview Park)
*Pre-teen/Spirit Bear room (located north of the library).
DAYS/HOURS OF OPERATION:
SCHOOL YEAR (September to June)
7:30 to 9:00 am Monday to Friday (Britannia School only)
3:00 to 5:45 pm Monday to Friday (Brit and QV)
SUMMER/SPRING/WINTER BREAK & PROFESSIONAL DAYS (VSB School Closures)
(drop off at centre between 7:30am- 10:30am)
7:30am to 5:45pm
CLOSED all Public Statutory Holidays, in addition we are closed for one Staff Pro-D Day & one program clean day per year.
MONTHLY FEE PAYMENTS starting September 2020:
Full Time:           $360/4-5 days
Part Time:          $240/3 days
                           $210/2 days
One month's written notice, by the last day of the previous calendar month, is required when withdrawing your child from the program or one month's fee payment in lieu of one month's notice. 

One month's written notice, by the last day of the previous calendar month, is required for changing your child's registration days and is based on space availability.
Part time families: Children can attend on full days it they are already registered for that day. If NOT registered an additional $55 is charged for a professional day. Families are required to register with the Senior Supervisor for additional days.
 

Contact: Senior Supervisor at 604.718.5843
Office: 1661 Napier Street, Vancouver, BC  V5L 4X4