Youth/Teen Centre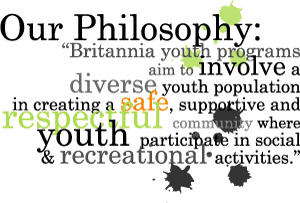 The Britannia Teen Centre is a place to meet people, get information and support, share your ideas and interests and have fun. Join our Youth Committee to help set direction.
The Teen Centre is a welcoming place in the community dedicated to all youth from 13-18 years old. Youth, volunteers and youth workers together plan and run programs and activities in the Teen Centre and elsewhere. Please check out our Calendar below for what's up.  If you do not see what you are looking for, then join in, get involved and make it happen! Join us on Facebook!
Teen Centre Summer Drop-in Hours:
Wed/Thu:   5:30-9:30pm
Fri/Sat:       6:00-10:00pm
See what's happening this summer in the TC!
Call the Teen Centre @ 604.718.5828 for more information on these programs:
Playland Tickets $27 ($8 discount)
Out Trips
Youth BBQs
Great Escape Outdoors
Diversity Camp
Ball Hockey Drop-in
Basketball Open Gym
Duke of Edinburgh Award
Call Tom @ 604.718.5826 for more information about:
Britannia Youth Committee
Equitas, Diversity Leadership Camp
Saturday Unlimited