Food Security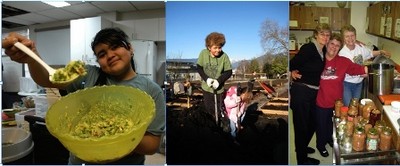 Britannia has identified food security as an important area of work recognizing that healthy, affordable, culturally appropriate, and sustainably produced food is a basic right for all community members.
Britannia is a leader in community food security programming largely through the fruitful partnership with the Grandview Woodland Food Connection (GWFC) which is a neighbourhood organization dedicated to supporting the health and well-being of all community members in the Grandview Woodland neighbourhood by promoting an accessible, just and sustainable food system for our community.
The work of the GWFC is firmly grounded in a community based approach that is inclusive, collaborative, action-oriented, and builds upon the community's skills and strengths to create a local food system that is accessible, healthy and sustainable. Many of our projects are hands-on and empowering, providing new skills and knowledge which are the foundation of community capacity building. 
Principal funding is generously provided by Vancouver Coastal Health's Community Food Action Initiative and Vancouver Social Policy Food Systems.
COVID-19 Food Delivery Program: Britannia's Staff and volunteers are working with the Grandview Woodland Food Connection (GWFC) to deliver food hampers to those in need. If you are unable to secure food for yourself or if you know a senior in your neighbourhood who is alone and without access to food, please let us know.
Contact us by email at or call us at 604.718.5828. This phone line will be checked for messages every day from 9am – 4pm (except statutory holidays). If you would like to support our essential services, please donate today
Login
Contact
Ian Marcuse
Community Food Developer
604.718.5895
Thank you
Funding and support for the Grandview Woodland Food Connection has been generously provided by:
Vancouver Coastal Health - Community Food Action Initiative and Healthy Living Program 
Vancouver Foundation - Youth Philanthropy Council
City of Vancouver - Greenest City Grants, Social Policy Grants, Neighbourhood Matching Grant
New Horizons for Seniors
Real Estate Foundation
Recreation Foundation of BC
Green Zebra
Cook the Hood
SFU Public Interest Research Group (SFPIRG)
Neighbourhood Small Grants
Magee Secondary School
Evergreen Foundation
Scotts Gro
Nutrition Link
Think and Eat Green @ Schools
CLICK - Connecting to Lives of Inner City Kids
Scotia Bank
Metro Vancouver Agriculture Awareness Gran
Pasture 2 Plate