Hours
Click image to make it larger.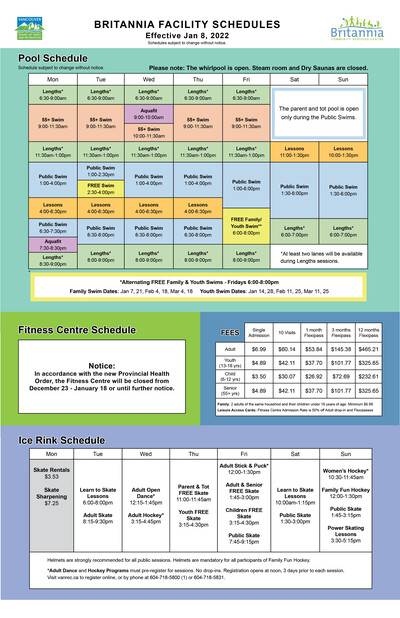 Info Centre:
Mon-Fri:          8:30am - 7:00pm*
Sat                  9:00am - 5:00pm*
Sun:                10:00am - 4:00pm*
*Closed on all statutory holidays.
604.718.5800 (1)
Pool:
Mon-Fri:          6:30am - 9:00pm*
Sat:                 11:00am - 7:00pm*
Sun:                10:00am - 7:00pm*
*Hours are subject to change without notice.
Pool cashier: 604.718.5831
Fitness Centre:
CLOSED
In accordance with the new Provincial Health Order, the Fitness Centre will be closed from December 23 - Jan 18 or until further notice.
Rink:

View our current schedule here.

 

Teen Centre:

Please call the Teen Centre for current hours and programs at 604.718.5828.

 

55+ Centre:

Closed. Please contact the 55+ team at 604.718.5837 for details.


 

Library:

Mon,Thu-Sat   9:00am - 6:00pm

Tue/Wed         9

:00am - 9:00pm

Sun                 1:00pm - 5:00pm

 
Safety Policies and Guidelines
We have developed COVID-19 safety policies including but not limited to:
Proof of vaccination is required to access the Pool, Fitness Centre, as well as adult sport, fitness and dance programs.
Participants should assess themselves daily for symptoms of common cold, influenza, COVID-19, or other infectious respiratory disease before attending a program.
Participants who are ill, including participants of essential service providers, should not attend a program or access the Community Centre.
The use of masks is required indoors for people 5 years of age and older in common areas of Britannia facilities when not engaged in physical activity, regardless of vaccination status.
Participants are encouraged to arrive no more than 10 minutes prior to your program time. Patrons may be required to line up prior to entering the facility.
If a participant, instructor or staff member is unsure if they should self-isolate due to illness they should contact 8-1-1 or the local public health unit. They can also be advised to contact a family physician or nurse practitioner to be assessed for COVID-19 and other respiratory diseases.
All participants are encouraged to practice proper hand hygiene and respiratory etiquette by covering coughs or sneezes.