Pool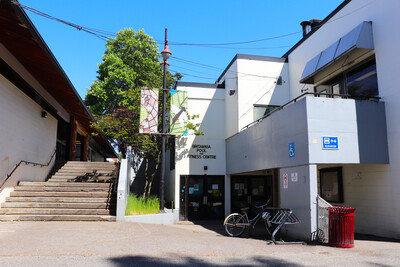 Our Pool is open for use. We now have a mix of registered and drop in spots available, and we encourage you to book ahead if possible. Appointments can be booked in advance online. Appointments and drop-ins are first-come, first-served. Drop-ins will be sold 15 min prior to the start of each session.

Holiday Weekend Hours - Jul 31-Aug 2
(Click on image for larger view)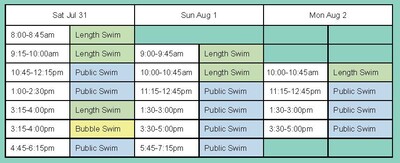 Please note:
The whirlpool is now open during all sessions.
Our saunas and steam room remain closed at this time.
Hours
Pool times available for booking (up to 3 days in advance) at
vanrec.ca.
* Hours are subject to change without notice.
(Click image to view full size)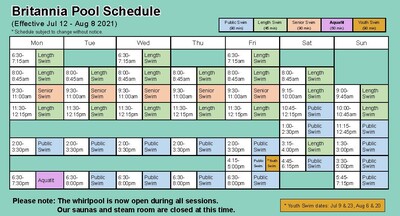 Bubble Swim

Enjoy a private swim session with up to 8 people. You have the exclusive use of the warm, shallow Teach Pool for 45 minutes and the use of the Universal Changeroom to change/shower and is sanitized in between groups.

Ideal for families with young children. You are welcome to bring your own water toys into the session except for mermaid tails/fins.   

Saturdays    3:15-4:00pm     $21.81 (incl tax)
Pre-register on line (up to 3 days in advance): recreation.vancouver.ca
 
45 min
90 min
Adult (19-54)
$4.58
$6.66
Youth (13-18)
$3.27
$4.66
Senior (55+)
$3.27
$4.58
Child (5-12)
 
$3.33
For more information on indoor pools in Vancouver, click here.
Safety Policies
Our Pool has capacity of 24-48 participants (depending on the session).
Participants should assess themselves daily for symptoms of common cold, influenza, COVID-19, or other infectious respiratory disease before attending a program.
Participants who are ill, including participants of essential service providers, should not attend a program or access the Community Centre.
The use of masks is recommended indoors for people 12 years of age and older and who are not yet fully vaccinated. 
Staff, program participants, and the public may wish to continue wearing a mask for some time – please respect this choice and be aware of others' personal space.
Registration and payment is required for most programs to help reduce the capacity to allow for physical distancing. Limited drop-ins may be permitted.
Participants are encouraged to arrive no more than 10 minutes prior to your program time. Patrons may be required to line up prior to entering the facility.
If a participant, instructor or staff member is unsure if they should self-isolate due to illness they should contact 8-1-1 or the local public health unit. They can also be advised to contact a family physician or nurse practitioner to be assessed for COVID-19 and other respiratory diseases.
All participants are encouraged to practice proper hand hygiene and respiratory etiquette by covering coughs or sneezes.
Drop-in for the pool and fitness centre will be limited to 20% of our capacity. Only registered or approved drop-in participants may enter our facilities. We accept cash, credit or debit for drop-in payment.
Our facilities will not be open for general socializing/congregating at this time. You will be asked to leave the building once your program or appointment has ended.
Change room access is limited to pool users. Lockers are limited in the change rooms. Please leave valuables at home.
At the end of your swim please change quickly and leave the building within 10 minutes of the end of your swim.
Lane Etiquette:

Only short course lanes are available at this time, no 50m lanes.
Kick boards, pull buoys and other equipment will not be available at the site.
 Swimmers can bring their own equipment if they choose
Each double wide lane has a capacity of 6 swimmers.
Do not change lanes if that will result in over 6 swimmers in a lane.
Maintain a minimum of 5 meters between yourself and the swimmer in front of you.
Do not stop and rest at the end of the lane. If you need to rest, please climb out of the pool and rest on the deck.

Individuals booking tickets online with Leisure Access will need to bring their Park Board OneCard which will be scanned to validate if you are currently enrolled in the Leisure Access program. If you do not have a OneCard and/or are not enrolled in the Leisure Access program you will be requested to pay the admission fee.
Note: Some links below open up as pages on the City of Vancouver website under Parks, Recreation and Culture.