Pool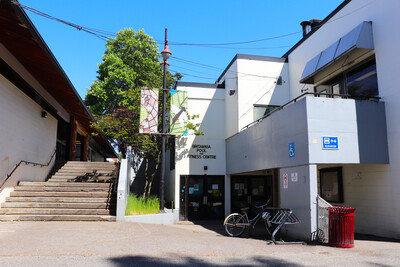 Our dry saunas, whirlpool, and steam room are open.

Schedule 
Click image to make larger.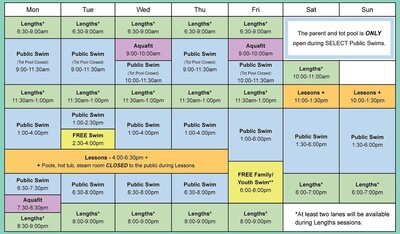 *Minimum two lanes open during lengths. Rentals may use part of the pool at various lengths times. There is 1 lane available for lengths during 55+ and Public Swim times.
+ Pools, hot tub and steam room are CLOSED to public during swim lessons.
** Alternating FREE Family and Youth Swims
Fridays 6:00-8:00pm
Family Swim Dates: Apr 29, May 13, 27, Jun 10, 24
Youth Swim Dates: Apr 22, May 8, 20, Jun 3, 17
Note: Pools, hot tub and steam room are CLOSED to public at this time. Family = children & parents/guardians. Youth = 13-18 yrs.
For more information on indoor pools in Vancouver, click here.
Swim Lessons
Registration for the next set of swim lessons opens on Tue Jun 28 at 7:00pm in-person and online.
Safety Policies
No spectators are allowed an any paid pool areas (including change rooms).

Participants should assess themselves daily for symptoms of common cold, influenza, COVID-19, or other infectious respiratory disease before attending a program.

Participants who are ill, including participants of essential service providers, should not attend a program or access the Community Centre.

If a participant, instructor or staff member is unsure if they should self-isolate due to illness they should contact 8-1-1 or the local public health unit. They can also be advised to contact a family physician or nurse practitioner to be assessed for COVID-19 and other respiratory diseases.

All participants are encouraged to practice proper hand hygiene and respiratory etiquette by covering coughs or sneezes.