Pool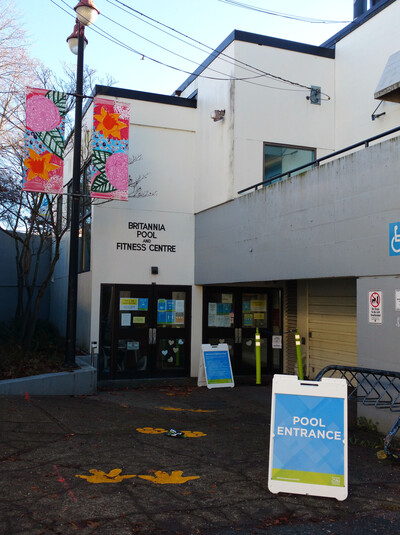 Our Pool is open for use by appointment only. Appointments can be booked in advance online. Appointments are first-come, first-served.
No drop-ins available at this time.
Please note: Our saunas, steam room, and hot tub are closed at this time.
Hours
Pool times available for booking* (up to 3 days in advance) at
www.recreation.vancouver.ca.
*Hours are subject to change without notice.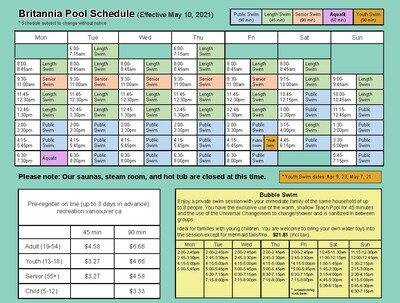 (Click image to view full size)
For assistance by phone please contact:
Information Centre - 604.718.5800 (1)
Mon-Fri    9:00am-5:00pm
Pool Cashier - 604.718.5831
Mon-Fri  8:00am-7:30pm, Sat  10:00am-3:30pm,
Sun  9:00am-4:30pm.
Please note: If you arrive after the start of your reserved session and it is otherwise fully booked, you are considered a no-show and your spot will be made available for drop-in. If you arrive late and the session is not fully booked, please see the Community Centre staff and follow their instructions.
For more information on indoor pools opening in Vancouver this month, click here.
Safety Policies
Our Pool has capacity of 18 participants.
All participants, instructors and staff who have symptoms of COVID-19 and/or have traveled outside Canada in the last 14 days and/or were identified by Public Health as a close contact of a confirmed case may not enter any facility or attend any in-person program.
Practice physical distancing and maintain minimum 2m between yourself and others at all times.
We recommend wearing a mask to and from any program or facility.
Wash or sanitize your hands when you enter any facility.
Drop-in for the pool and fitness centre will be limited to 20% of our capacity. Only registered or approved drop-in participants may enter our facilities. We accept cash, credit or debit for drop-in payment.
Please arrive no more than 10 minutes prior to your appointment start time.
Patrons will be required to line up 2m apart prior to entering a facility. An ambassador will be located at each entrance letting patrons know about of safety policies, ensuring that only registered patrons enter facilities, and ensuring that our patrons can maintain physical distancing when entering and exiting.
Our facilities will not be open for general socializing/congregating at this time. You will be asked to leave the building once your program or appointment has ended.
Upon arrival, patrons must complete a Health Declaration form confirming that they do not have symptoms of the common cold, influenza, COVID-19, or other respiratory diseases.
Anyone not following safety guidelines or directions from staff will be asked to leave. Please respect and follow directions of staff at all times.
Change room access is limited to pool users; ensure you maintain physical distancing in the change room. Lockers are limited in the change rooms. Please leave valuables at home.
At the end of your swim please change quickly and leave the building within 10 minutes of the end of your swim.
Lane Etiquette:

Only short course lanes are available at this time, no 50m lanes.
Kick boards, pull buoys and other equipment will not be available at the site.
 Swimmers can bring their own equipment if they choose
Each double wide lane has a capacity of 6 swimmers.
Do not change lanes if that will result in over 6 swimmers in a lane.
Maintain a minimum of 5 meters between yourself and the swimmer in front of you.
Do not stop and rest at the end of the lane. If you need to rest, please climb out of the pool and rest on the deck.

Individuals booking tickets online with Leisure Access will need to bring their Park Board OneCard which will be scanned to validate if you are currently enrolled in the Leisure Access program. If you do not have a OneCard and/or are not enrolled in the Leisure Access program you will be requested to pay the admission fee.
SAOIRSE SANKEY MEMORIAL AWARD
for Lifeguard Training & Career Development
This award is presented to local, Britannia Youth to support their training and attaining certifications, to become employable as a Lifeguard/Swim Instructor.
Saoirse Sankey (May 3, 1992-Aug 31, 2012) spent much of her short life in the waters of Britannia: from blowing bubbles as a "water baby" to years of dedicated service as a swim instructor and lifeguard. This award honours Saoirse and all those who supported her on this path.
Please contact the Aquatics Programmer at 604-718-5830 for more information or to apply.
Note: Some links below open up as pages on the City of Vancouver website under Parks, Recreation and Culture.