Pool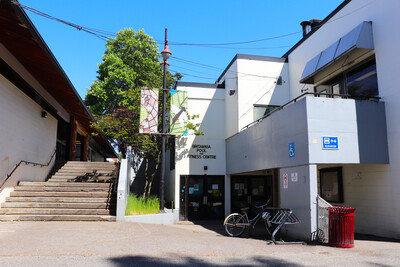 Our steam room and sauna will remain closed until further notice.
Proof of vaccination is now required for pool admission.
Schedule
Click image to make larger.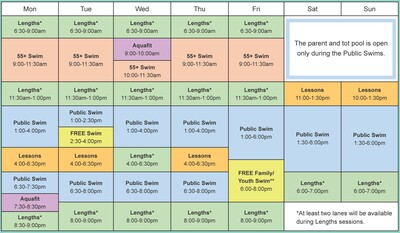 *Minimum two lanes open during lengths. Rentals may use part of the pool at various lengths times. There is 1 lane available for lengths during 55+ and Public Swim times.
** Alternating FREE Family and Youth Swims

Fridays 6:00-8:00pm

Family Swim Dates: Jan 7, 21, Feb 4, 18, Mar 4, 18

Youth Swim Dates: Jan 14, 28, Feb 11, 25, Mar 11, 25
For more information on indoor pools in Vancouver, click here.
Swim Lessons
Registration for the next set of swim lessons opens on Tuesday December 21, 2021 at 7:00pm in-person and online.
Safety Policies
Proof of vaccination is now required for pool admission for people 12 years and older.

No spectators are allowed an any paid pool areas (including change rooms).

Participants should assess themselves daily for symptoms of common cold, influenza, COVID-19, or other infectious respiratory disease before attending a program.

Participants who are ill, including participants of essential service providers, should not attend a program or access the Community Centre.

The use of masks is required indoors for people 5 years of age and older in common areas of Britannia facilities when not engaged in physical activity, regardless of vaccination status.

If a participant, instructor or staff member is unsure if they should self-isolate due to illness they should contact 8-1-1 or the local public health unit. They can also be advised to contact a family physician or nurse practitioner to be assessed for COVID-19 and other respiratory diseases.

All participants are encouraged to practice proper hand hygiene and respiratory etiquette by covering coughs or sneezes.