Pool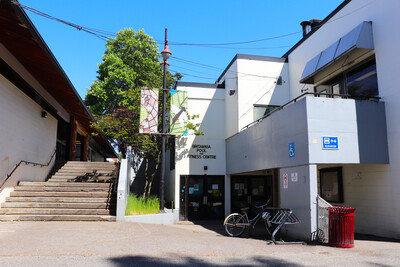 Schedule - Jun 1- 30
(Click on image for larger view)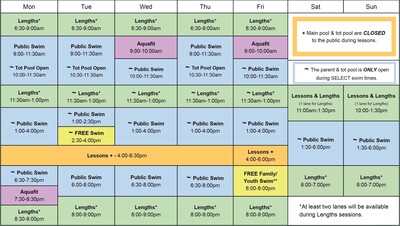 **Alternating FREE Family & Youth Swims - Fridays 6:00-8:00pm
- No public access to pool, hot tub, steam room at this time.
Family Swim Dates:  Jun 9, 23     
Youth Swim Dates:  Jun 2, 16, 30
PLEASE NOTE: Tue Jun 27-Wed Jun 28
Pool will be closed for maintenance.
Changerooms and Dry Saunas will be available.
For more information on indoor pools in Vancouver, click here.
Swim Lessons
Registration for summer swim lessons opens on Tuesday June 27, 2023 at 7:00pm in-person and online.
New Swim Lesson Levels
As of January 1, 2023 the Canadian Red Cross will no longer be providing swimming lessons as they focus all their efforts as an organization on humanitarian aid. They have endorsed the Lifesaving Society's Swim for Life program and the Vancouver Board of Parks and Recreation will be implementing this program as we continue to offer swimming lessons. Please see how each level will transition to the new program below. 
Click on image for larger view.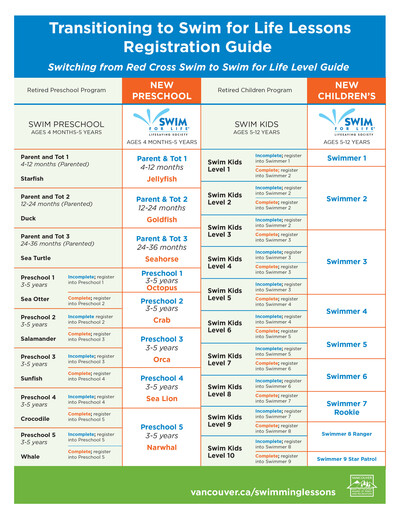 Safety Policies
Participants should assess themselves daily for symptoms of common cold, influenza, COVID-19, or other infectious respiratory disease before attending a program.

Participants who are ill should not attend a program or access the Community Centre.

If a participant, instructor or staff member is unsure if they should self-isolate due to illness they should contact 8-1-1 or the local public health unit. They can also be advised to contact a family physician or nurse practitioner to be assessed for COVID-19 and other respiratory diseases.

All participants are encouraged to practice proper hand hygiene and respiratory etiquette by covering coughs or sneezes.