Fitness Centre

Hours
Fitness times available for booking* (up to 3 days in advance) at www.recreation.vancouver.ca.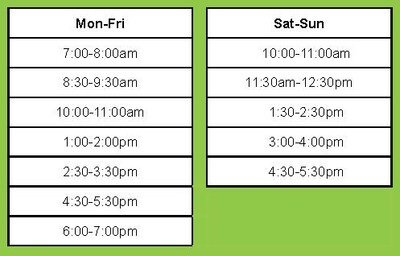 *Hours are subject to change without notice.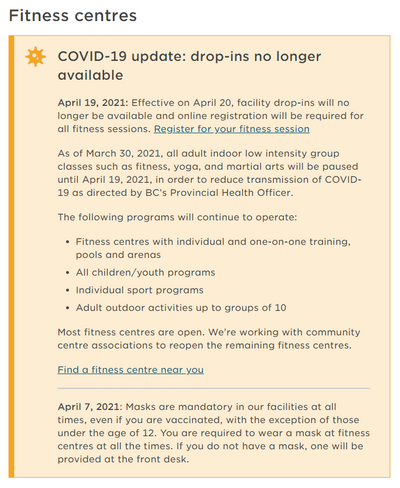 For assistance by phone please contact:
Information Centre - 604.718.5800 (1)
Mon-Fri    9:00am-5:00pm
Pool Cashier - 604.718.5831
Mon-Fri  8:00am-7:30pm, Sat  10:00am-3:30pm,
Sun  9:00am-4:30pm.
For more details on fitness centres open in Vancouver, click here.
Accessing the Fitness Centre
Our Fitness Centre has capacity of 8 participants. No drop ins at this time. Please register for your space in advance.
Changing rooms, showers, and lockers are closed at this time. Arrive maximum 10 minutes before the start of your session, fully dressed for your workout. Wallet lockers are available to store your small valuables. Please leave all large valuables and bags at home or in your car.
If you arrive after the start of your reserved session and it is otherwise fully booked, you are considered a no-show and your spot will be made available for drop-in. If you arrive late and the session is not fully booked, please see the Community Centre staff and follow their instructions.
Individuals booking tickets online with Leisure Access will need to bring their Park Board OneCard which will be scanned to validate if you are currently enrolled in the Leisure Access program. If you do not have a OneCard and/or are not enrolled in the Leisure Access program you will be requested to pay the appropriate admission fee.
Cardio equipment sign up board is not to be used at this time.
Safety Policies
All participants, instructors and staff who have symptoms of COVID-19 and/or have traveled outside Canada in the last 14 days and/or were identified by Public Health as a close contact of a confirmed case may not enter any facility or attend any in-person program.
Practice physical distancing and maintain minimum 2m between yourself and others at all times. Equipment layout of each Fitness Centre has been updated to allow for physical distancing and one-directional travel indicated by directional signage. Follow physical distancing markers when queuing.
We recommend wearing a mask to and from any program or facility.
Wash or sanitize your hands when you enter any facility or upon arrival at a program.
Classes will be by registration only. Drop-in for the pool and fitness centre will be limited to 20% of our capacity. Only registered or approved drop-in participants may enter our facilities. We accept cash, credit or debit for drop-in payment.
Please arrive no more than 10 minutes prior to your program start time.
Patrons will be required to line up 2m apart prior to entering a facility. An ambassador will be located at each entrance letting patrons know about of safety policies, ensuring that only registered patrons enter facilities, and ensuring that our patrons can maintain physical distancing when entering and exiting.
Our facilities will not be open for general socializing/congregating at this time. You will be asked to leave the building once your program or appointment has ended.
Bring your own pre-filled water bottle. Water fountains are not available.
Upon arrival, patrons must complete a Health Declaration form confirming that they do not have symptoms of the common cold, influenza, COVID-19, or other respiratory diseases.
Anyone not following safety guidelines or directions from staff will be asked to leave. Please respect and follow directions of staff at all times.
Please leave the Fitness Centre immediately at the end of your reserved session to allow the Fitness staff to clean the high-touch points and equipment.
Clean as you go: Each patron will be provided with the tools to clean all equipment before and after use. Please be respectful and limit your use of any equipment to 20 minutes if others are waiting.
Limited portable fitness equipment will be available. Patrons can bring their own portable fitness equipment (limited to small equipment – I.e. ankle straps, skipping ropes, weightlifting belts, bands, etc.) – please consult with Fitness staff prior to bringing in your own equipment.
Do not work out with others unless they are from the same household or pod.
We encourage you to wear face mask and other PPE to protect yourself and others during your workout.
Note: Some links below open up as pages on the City of Vancouver web site under Parks, Recreation and Culture: