Ice Rink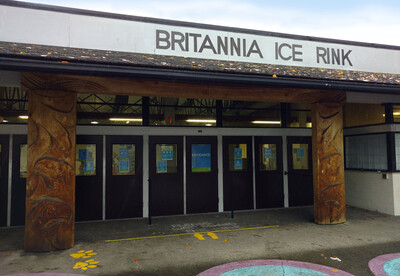 Public skate times available for booking* (up to 3 days in advance) at www.recreation.vancouver.ca.
*Hours are subject to change without notice.
Note: no drop-ins available at this time.
Saturday
12:15-1:15pm
2:00-2:45pm
Sunday
10:30-11:30am
12:15-1:00pm
1:45-2:30pm
3:15-4:00pm
For assistance by phone please contact:
Information Centre - 604.718.5800 (1)
Mon-Fri    9:00am-5:00pm
Pool Cashier - 604.718.5831
Mon-Fri  8:00am-7:30pm, Sat  10:00am-3:30pm,
Sun  9:00am-4:30pm.
For more details on ice rinks open in Vancouver, click here.
Plan your visit
Our Rink has capacity of 20 participants.
Arrive no more than 15 minutes before your reserved skating time.
Arrive dressed for the session as there will be a limited amount of time to get ready before your ice time. 
You will have 15 minutes at the end of a session or lesson to take your skates off and exit.
Leave all valuables at home. There will be no access to lockers.
​​​​​​​Accessing the ice rink
Stay 2 metres apart from people who aren't in your household or social bubble.
Follow the signs to the new entrances. 
Follow the entrance and exit signs for the washrooms.
Facilities are one-directional to maximize safety and customer efficiency.
Exit the rink within 15 minutes at the end of your skating session or lesson
Customers who don't follow the rules and safety guidelines of the rink may be asked to leave without a refund or prevented from registering for future sessions and lessons.
 
Refunds are only available when requested by 3pm on the day before your session (by Friday 3pm for weekend sessions). Call the recreation facility where your session takes place.
 
If you do not show up for your session, there will be no refund. If you arrive after the start time of your session:
Your space could be sold to a drop-in customer. If the session is full, you will not be given admission and will not get a refund.
If the session is not full, you may be permitted entry; ask staff for instructions.
Note: Some links below open up as pages on the City of Vancouver web site under Parks, Recreation and Culture.