Ice Rink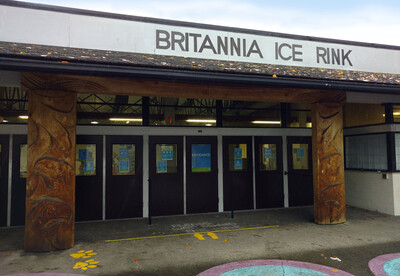 No Public Skate Sessions from Sep 6-25
Pre-register on line (up to 3 days in advance):

Adult (19-54)
    $6.66    


Skate Rental

$3.33

 

No skate

sharpening

available.

 

Youth (13-18)
$4.66
Senior (55+)
$4.66
Child (6-12)
$3.33
For assistance by phone please contact:
Information Centre - 604.718.5800 (1)
Mon-Fri    9:00am-5:00pm
Pool Cashier - 604.718.5831
Mon-Fri  8:00am-7:30pm, Sat  10:00am-3:30pm,
Sun  9:00am-4:30pm.
For more details on ice rinks open in Vancouver, click here.
Skating Lessons
Registration for Set 1 fall skating lessons begins Wednesday September 8, 2021 at 9:00am in-person and online, and at 1:00pm by phone.
Registration for Set 2 lessons begins Wednesday November 3, 2021 at 9:00am in-person and online, and at 1:00pm by phone.
Vancouver Coed Hockey League
The program in now full.
Plan your visit
Arrive no more than 15 minutes before your reserved skating time.
Arrive dressed for the session as there will be a limited amount of time to get ready before your ice time. 
You will have 15 minutes at the end of a session or lesson to take your skates off and exit.
Leave all valuables at home. There will be no access to lockers.
​​​​​​​Accessing the Ice Rink
Participants should assess themselves daily for symptoms of common cold, influenza, COVID-19, or other infectious respiratory disease before attending a program.
Participants who are ill, including participants of essential service providers, should not attend a program or access the Community Centre.
The use of masks is required indoors for people 12 years of age and older in common areas of Britannia facilities when not engaged in physical activity, regardless of vaccination status. Patrons must wear a mask when entering an exiting Britannia facilities, but can remove masks when engaging in physical activities in the pool, fitness centre, rink and indoor classes.
Staff, program participants, and the public may wish to continue wearing a mask for some time – please respect this choice and be aware of others' personal space.
Participants are encouraged to arrive no more than 10 minutes prior to your program time. Patrons may be required to line up prior to entering the facility.
If a participant, instructor or staff member is unsure if they should self-isolate due to illness they should contact 8-1-1 or the local public health unit. They can also be advised to contact a family physician or nurse practitioner to be assessed for COVID-19 and other respiratory diseases.
All participants are encouraged to practice proper hand hygiene and respiratory etiquette by covering coughs or sneezes.
Follow the signs to the new entrances. 
Follow the entrance and exit signs for the washrooms.
Exit the rink within 15 minutes at the end of your skating session or lesson



Note: Some links below open up as pages on the City of Vancouver web site under Parks, Recreation and Culture.