Britannia Art Gallery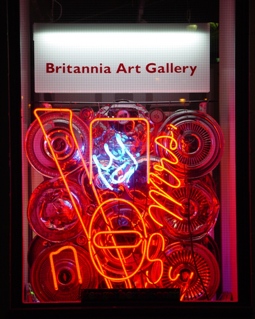 Britannia Art Gallery applications:
Artists from the area interested in showing work at the Britannia Art Gallery or offering an arts workshop, submit your application by April 30, 2021.
Art Gallery Exhibition - https://forms.gle/7mdU8YJu4QYUiCkf6
Workshop application - https://forms.gle/Tg5uwRibe8xBfTwLA
Current exhibition:
For full exhibition details please visit  britanniaartgallery.weebly.com
April 2-26, 2021
"Woven Views" - work by Dana Cromie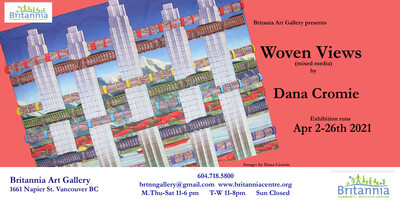 Gallery hours:
Monday              11:00am - 6:00pm
Tuesday             10
:00am - 9:00pm
Wednesday       
10:00am - 9:00pm
Thursday            10:00am - 6:00pm
Friday                 10:00am - 6:00pm
Saturday            

11:00am - 6:00pm
Please plan visits with the following in mind. 
There is a staggered entrance into the library to ensure social distancing.  
Because of the size of the gallery itself there is a limit of two people in this space at any one time. 
Please contact the curator for more information:
or leave a message at 604.718.5800 (1).

Follow @britanniaartgallery on Instragram
Login
Showcasing the work of local artists in the Adult Lounge of the Library. Everyone welcome!