Story Gallery Festival 2011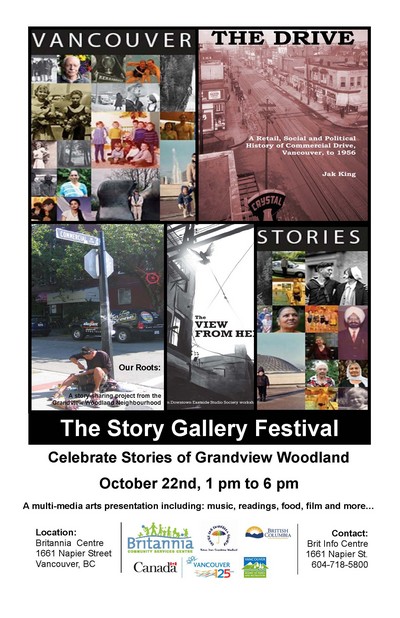 The community of Grandview Woodland celebrates story-sharing through books, audio projects and film. Please come join in the celebration including music, readings, demonstrations, presentations and food! This event takes place outdoors on the Britannia Site as well as in the Art Gallery of the Library.

Story participants include:
125 Vancouver Stories
Our Roots
Voices from Grandview Woodland
Jak King - The Drive
Downtown Eastside Studio Society Workshop
- The View from Here
Paula Luther
Jody Broomfield
Traditional Grandmothers and Grandfathers
The Tim Sars Trio
Karlos Reyes - Estilo Cubano
James Hamilton
Highrise Lonesome Band
Just Work Economic Initiative
See the schedule of events here.
For further information contact the Arts Programmer 604.718.5825
Login
Join the Arts and Culture Committee!
Call the Arts Programmer @ 604.718.5825