Diwali 2011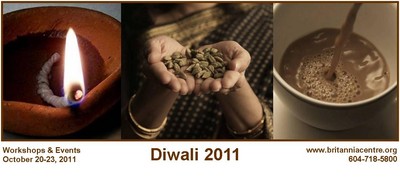 Join us and celebrate Diwali with Chai, Arts, Dance, Food and more!
Diwali 2011
Schedule of Events
All Events are FREE
Location:  Adult 55+ Centre at Britannia Ctr
*
Thursday, October 20,
1 pm to 2:30 pm
Chai House
Join us for an informal and social afternoon
including: Chai and treats, slide show of India and a discussion on the history of Diwali.
*
Saturday, October 22,
1 pm to 4 pm
An Afternoon of Indian Arts
A creative afternoon for all ages! 
We will do Diya Painting, Bollywood Dance, Rangoli, Sari Wrapping and more…
*
Sunday October 23
10am to 1pm
SORRY THIS CLASS IS FULL
Samosas, Chutney & Chai:
A Culinary Workshop
In this workshop you will learn how to make baked vegetarian samosas, chutney and a special chai.  A social workshop where all will work together to complete and then sit together to eat.  Participants will leave with recipes and handouts.
SORRY THIS WORKSHOP IS CURRENTLY FULL.
To register:
604-718-5800 or
www.britanniacentre.org or
In Person at the Info Centre
Login
Join the Arts and Culture Committee!
Call the Arts Programmer @ 604.718.5825