The Artery Newsletter
News from the Britannia Art Gallery. Monthly listings of local, national and international events, workshops, grants and more.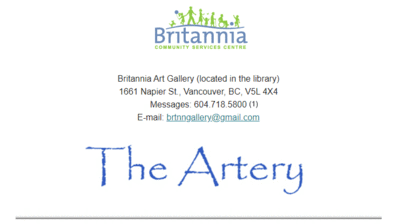 GALLERY/ARTERY CONTACT INFORMATION
Britannia Art Gallery (located in the library)
1661 Napier St., Vancouver, BC, V5L 4X4
Messages: 604.718.5800 (1)
E-mail:
 
Login
Showcasing the work of local artists in the Adult Lounge of the Library. Everyone welcome!