Recycle Depot
COVID update: The Beyond the Blue Box Recycle Depot continues to operate each month from 9am-noon in the parking lot.


Beyond the Blue Box: Recycling at Britannia
Every third Saturday of the month, Britannia Centre sponsors a plastics recycling depot located in the back parking lot at Britannia, where recyclers can dispose of the plastic items the City of Vancouver can't take. Pacific Mobile Depots (PMD), based in Victoria, collects plastics and other materials, then sells them to small BC factories to repurpose:  http://pmdrecycling.com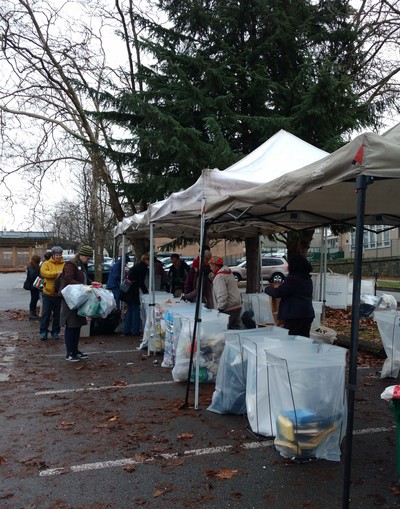 For a small price, you can get rid of plastic bags in your cupboards, broken plastic toys in the basement, and a host of other items such as styrofoam, foil-lined materials, and metal objects. So bring your plastics/metals/solid foam, and they will get a new purpose in life. What's not to like? Proceeds go to PMD and Britannia Centre.
What Do We Recycle and at What Cost?
 * Hard & Soft Plastics and Styrofoam - (bags, bubble wrap, children's toys, plastics wrappings and packaging, etc.) foil-lined bags, tetra paks, gable-top cartons (eg. milk and juice cartons), plant pots and Styrofoam.
 By volume:  Regular garbage bag $3.50                               Large garbage bag $7.00
* Electronic Waste
- Servers and laptops – Free
- Wires & Cables – Free (Excluding coaxial cables $1/lb)
  -Other electronics/small appliances $2.50 small/ $5 large
* Bike tires/tubes - $0.75/tube, $10 bagged (36"x48")
* Infant/ Child Car Seats
- $12 – you dismantle it (fabric, metal, foam, plastic separated), or $20 – we dismantle it for you!
* Free – Lightbulbs & batteries of all sizes
For a more detailed and comprehensive list,
please visit the website at:
For more information on recycle depot or to volunteer:
604-718-5800 (press 1)
2020 RECYCLE DEPOT
9am - Noon
Jan 18, Feb 15, Mar 21, Apr 18,
May 16, Jun 20, Jul 18, Aug 15,
Sep 19, Oct 17, Nov 21, Dec 19