About: Britannia Art Gallery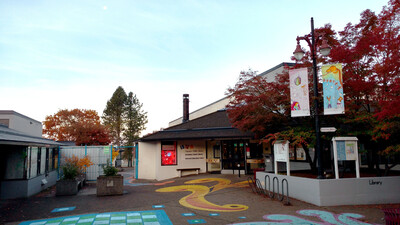 The Britannia Art Gallery is a community galley located in the Vancouver Public Library's Britannia branch.
We offer opportunities to professional and leisure artists, artisans, school groups, artist collectives, and other community organizations within our catchment: Main Street to Nanaimo Street from Broadway to the south shore of the Burrard Inlet in Vancouver, BC.
History:
The Britannia Art Gallery began informally before 1993, launched by a local group of artists called the Neighbourhood Cultural Collective. It was only in 1993 that the Gallery Project, now called Britannia Art Gallery, officially began. At that time Sylvia Oates became the designated curator. Sylvia continued for the next 10 years. Through her tenure, over 200 artists and artisans got to exhibit their work in the library in an area that once was a storage space for audio-visual equipment.
Sylvia stepped down as curator, in 2003. Leah Decter, a local installation artist took over for the next two years. During her time as curator, she had the space now the library's Adult Reading Lounge, renovated, covering the cinder block walls and fireplace with chip rock painted white and installing track lighting. This is how the space is today with a secured display case containing movable shelves and mini track lighting. During Leah's tenure she programmed exhibitions and offered local artists soirees to share their work with other artists.
In 2005 Leah decided to move back to her home town, Winnipeg so Britannia Centre put out a job posting and interviewed 3-5 potential candidates. Haruko Okano then came on board. A staunch arts advocate and professional artist, she continued to build on the foundation laid by Sylvia and Leah. She worked with Brenda Racanelli who was at that time, Britannia's Arts and Culture programmer. Together with the Arts and Culture Committee, they worked to increase the gallery's budget so that musicians and other artists working for the gallery would receive a small honorarium. It was important that the gallery's programs were free and accessible to the public and that artists and artisans were acknowledged for their contribution to the community's cultural enrichment. In 2019, Bernadine Fox joined the curatorial team.  Together she and Haruko worked to ensure the incredible work being produced in Britannia's catchment has a space to be seen.
Haruko and Bernadine retired in 2022, and Danais Yera Guerra has been supporting the gallery until a new curator is hired to continue the legacy of this community space.
30 years of service and now Britannia Art Gallery has lit signage and a neon installation in the window so that patrons and other visitors can find us. The gallery issues the Artery, a monthly electronic newsletter that provides free local, cultural and arts advertisement, job calls and a call for submissions section that spans from the local to international level. Subscription is free.
The gallery continues to provide exhibitions, workshops and artist talks annually, and has expanded engagement to exist virtually through our website and Instagram.
Contact:
604.718.5800 (1)
Login
Showcasing the work of local artists in the lounge of the Britannia Branch Library. Everyone welcome!