Call for Submissions - 2022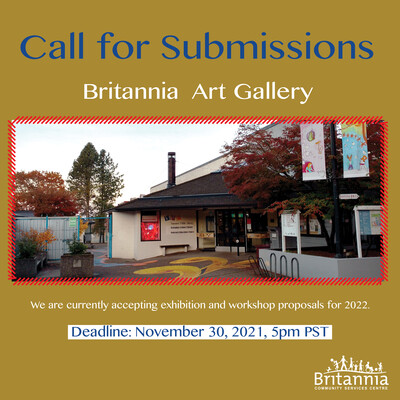 The Britannia Art Gallery is currently taking applications for exhibitions and workshops for 2022!
Deadline: November 30, 2021, 5pm PST.
How to apply
Complete one of the following Google form applications below by the deadline:

Exhibition application: https://forms.gle/zVgg4SuZvH2USVhS7
Workshop application: https://forms.gle/m74QDi2kb2N9GRnU6
Who can apply:
Professional and leisure artists, art collectives, and artisans who either live or have a studio within Britannia's catchment: Main St to Nanaimo St, from Broadway to the south shore of Burrard inlet in Vancouver, BC.
Questions?
Email us at brtnngallery@gmail.com or leave a message at 604.718.5800.
For more information, visit https://britanniaartgallery.weebly.com/
Login
Showcasing the work of local artists in the lounge of the Britannia Branch Library. Everyone welcome!