Britannia would like to assist those who are not able to afford the advertised cost of certain recreation programs; at the same time, our operation needs to be financially viable. Click here for our Subsidy Policy.
Britannia Events Calendar
Orange Shirt Day
Sep 30, 2022 9:00 am - Sep 30, 2022 2:00 pm
Location: Grandview Park
Wear your orange shirt on September 30 and join us as we honour survivors of residential schools and their families on National Day for Truth and Reconciliation. Every child matters.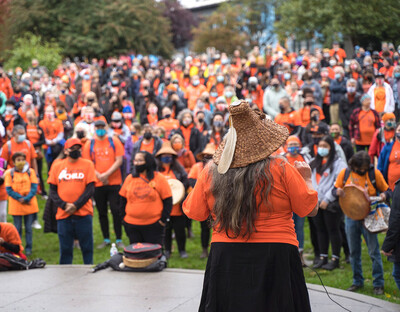 Schedule
9:00am
Assemble outside Vancouver Aboriginal Community Policing
Centre (1719 Franklin Street).
9:45am
Walk to Grandview Park.
10:30am
Ceremony at Grandview Park.
11:00am-2:00pm
Activities (lunch, drum circle, crafting & sharing) 
Resources
Britannia's Anti-Racism and Anti-Oppression Committee sent out a community call this summer to put together a list of readings, films, resources and other materials for non-Indigenous community members to use to learn about residential schools and reconciliation.
Please explore and share these resources on your journey to reconciliation:
21 Things You May Not Know About the Indian Act
Five Little Indians by Michelle Good
A Fire Burns Within, Teachings from Ceremony and Culture by Sharon L Acoose
Seven Fallen Feathers, Racism Death, and Hard Truths in Northern City by Tanya Talaga
Unsettling Spirit, A Journey into Decolonization by Denise M Nadeau

Readings for Children + Youth (+ everyone!):
The Orange Shirt Story by Phyllis Webstad (6 to 9 years)
When We Were Alone by David A Robertson (4 to 8 years)
My Name is Seepeetza by Shirley Sterling (9 to 12 years)
I am Not A Number by Jenny Kay Dupuis (7 to 11 years)
When We Play Our Drums, They Sing! By Monique Gray Smith & Richard Van Camp (9 - 13 years)

Events
Sep 3, 2022 11:00 am - Sep 3, 2022 7:00 pm

Location:

Britannia Courtyard

Sep 3, 2022 12:00 pm - Sep 3, 2022 4:00 pm

Location:

Napier Greenway

Sep 3, 2022 12:00 pm - Sep 3, 2022 4:00 pm

Location:

Britannia Plaza

Sep 7, 2022 3:00 pm - Sep 7, 2022 7:00 pm

Location:

Britannia Plaza

Sep 10, 2022 12:00 pm - Sep 10, 2022 4:00 pm

Location:

Britannia Plaza

Sep 10, 2022 1:00 pm - Sep 10, 2022 3:00 pm