Britannia would like to assist those who are not able to afford the advertised cost of certain recreation programs; at the same time, our operation needs to be financially viable. Click here for our Subsidy Policy.
May Exhibitions: Britannia Art Gallery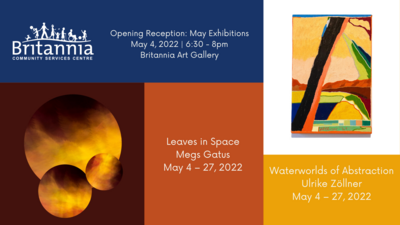 The Britannia Art Gallery is excited to announce two new exhibitions this month.
Leaves in Space
Megs Gatus
May 4 – 27, 2022
Waterworlds of Abstraction
Ulrike Zöllner
May 4 – 27, 2022
Learn more about the exhibitions here: http://www.britanniaartgallery.org/ulrike-zoumlllner--meg-gatus.html
Join us on May 4, 2022 from 6:30 - 8pm for the opening reception. Light refreshments will be served. Artists will be in attendance. To learn more, click here. 
Post a Comment :
Comments are currently closed for this post.