LOVE Bombing Workshop 2015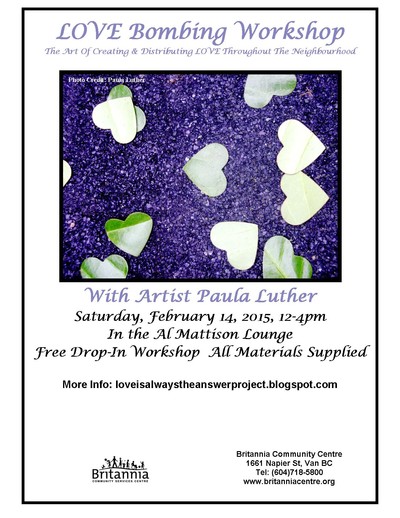 A workshop designed to inspire the creative spirit and to spread the LOVE.
Inspired by LOVE, random acts of kindness and community, this workshop will focus on the distribution of handcrafted messages throughout the neighbourhood.
Imagine messages of LOVE scattered, simple messages of LOVE posted, a tree filled with yarn bombed hearts, ephemeral messages of LOVE made from natural and biodegradable materials. All materials supplied.
12:00-2:30 pm - Art Making Discussion on how to LOVE bomb respectfully
2:20-4:00 pm - LOVE Bombing walkabout in the neighbourhood
Login
Join the Arts and Culture Committee!
Call the Arts Programmer @ 604.718.5825