Ejiwa "Edge" Ebenebe BLM Mural Project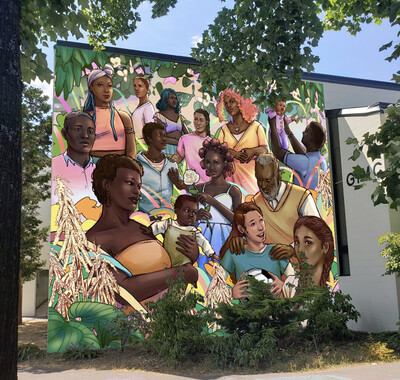 Celebrating Black Lives
Ejiwa "Edge" Ebenebe completed the "Celebrating Black Lives" mural in the summer of 2022. Standing at approximately 450 square feet, the mural features intermingling elements that echo both historic and present markers of Black existence in Canada to serve as a reminder of the enduring presence of Black communities.
With diverse Black, Indigenous, and People of Colour residents in our catchment, we hope this mural will help foster a sense of belonging as community members and secondary school students will walk past and see a little piece of themselves reflected in the imagery.
Thanks to the funding from the City of Vancouver Communities and Artists Shifting Culture grant and Britannia Society.
Artist Statement
"Growing up as an immigrant, my relationship to community and identity has been constantly developing. While my parents are Nigerian, I was born outside of their homeland, and went on to experience multiple cultures throughout my childhood and early adulthood. From my passion for vibrant, rich colours, to the love of elaborate ornamentation, my varying homes have informed my creative perspective in strong ways.
As an immigrant artist, I wrestle with the concept of community and identity, both within myself and in the work I create, and strive to create representation for voices  (particularly Black, LGBTQ2+ folks) who are often pushed out of positive, empowering narratives. My personal focus as a Black artist is on celebrating our joy, peace, beauty and triumph, as these are realities so often unseen or unwelcomed by the societies surrounding us, or reflected back at us."