Black History Month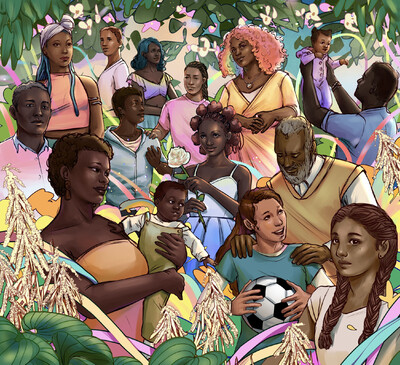 BLM Mural - Ejiwa "Edge" Ebenebe 
The Britannia Anti-Racism and Anti-Oppression Committee sent out a community call in January to put together a list of readings, films, resources, and other materials for folks to use to learn about Black history and culture. Below is a list of materials suggested by our community with hopefully something for everybody to enjoy!

Have a suggestion to add to our community resource list? Email and let us know!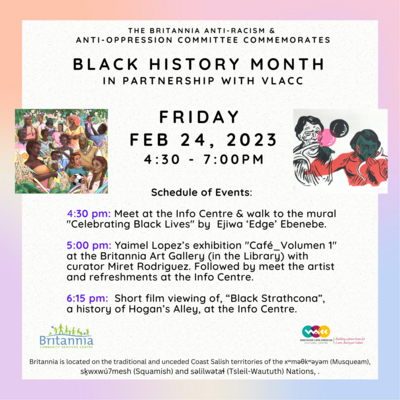 Local Organizations:
- Hogan's Alley Society: www.hogansalleysociety.org
- Black Arts Vancouver: blackartsvancouver.com
- BC Community Alliance: www.bccommunityalliance.com
- Afro Van Connect: www.afrovanconnect.com
- Black Lives Matter Vancouver: https://blacklivesmattervancouver.com/
- Vancouver Black Library: https://www.vancouverblacklibrary.org/
- BC Black History: bcblackhistory.ca
Books and Biographies:
The Sleeping Car Porter, Suzette Mayr
Washington Black, Esi Edugyan
The Book of Negroes, Lawrence Hill
The Underground Railroad, Adrienne L Shadd
Go Do Some Great Things, The Black Pioneers of British Columbia, Crawford Killian
Unsettling the Great White North Black Canadian History, Michele A. Johnson & Funke Aladejebi
Medical Apartheid: The Dark History of Medical Experimentation on Black Americans from Colonial Times to the Present, Harriet A. Washington
Harlem Shuffle, Colson Whitehead
The Prophets, Robert Jones Jr
A Little Devil in America, Hanif Abdurraqib
Moon Witch Spider King, Marlon James
Construction a Nervous System, Margo Jeffries
Son of Elsewhere, Elamin Abdelmahmoud
How the World is Passed, Clint Smith
My Son Jimi, James A. Hendrix
Our Friend Joe, The Joe Fortes Story, Lisa Anne Smith
Running Uphill: The Fast Short Life of Canadian Harry Jerome, Fil Fraser
A Man Called Moses: The Curious Life of Wellington Delaney Moses, Bill Gallaher
Harriet Tubman: Freedom Seeker, Freedom Fighter, Rosemary Sadlier
A Jazz Odyssey, Oscar Peterson
Readings for Kids (Ages 6 – 99)
Trailblazers: The Black pioneers Who Shaped Canada, Tiyaha Ridley-Padmore
Bold Women in Black History, Vashti Harrison
Stolen Science, Ella Schwartz
This is Your Time, Ruby Bridges
When Stars are Scattered, Victoria Jamieson & Omar Mohamed
Henry's Freedom Box, Ellen Levine & Kadir Nelson
If I Just Had Two Wings, Virginia Frances Schwartz
The King of Kındergarten,  Derrıck Barnes, Vanessa Brantley-Newton
Ada Twıst, Scıentıst, Andrea Beatyy
Young Gıfted and Black, Jamıa Wılson
Martın Luther King, Marıa Isabelle Sanchez Vegara
Our Skin: A First Conversation About Race, Megan Madison, Jessica Ralli, Isabel Roxas
Intersectıon Allıes: We Make Room for All, Chelsea Johnston, LaToya Council, Carolyn Choi, Ashley Seil Smith
What is Racism, Katie Daynes & Jordan Akpojaro
Bodies Are Cool, Tyler Feder
Visual Media
Hair Love
Link: https://www.youtube.com/watch?v=kNw8V_Fkw28
Hair Love, an Oscar-winning animated short film from Matthew A. Cherry, tells the heartfelt story of an African American father learning to do his daughter's hair for the first time.
In Our Heads About Our Hair
Web Link: https://www.cultureunplugged.com/documentary/watch-online/play/52026/in-our-heads-about-our-hair
This documentary examines issues Black Women confront regarding hair and seld-esteem. Despite a current natural-hair trend in some urban areas, many Black women say conforming to mainstream beauty standards makes it easier to find mates and corporate employment. The feature documentary celebrates natural beauty and also offers opinions (and wisdom) from people making their hairstyling choices.
Paris Is Burning
Web Link: https://watchdocumentaries.com/paris-is-burning/ Filmed in the mid-to-late 1980s, Paris Is Burning chronicles the ball culture of New York City and the African-American, Latino, gay, and transgender communities involved in it. The film explores the elaborately-structured ball competitions in which contestants, adhering to a very specific "category" or theme, must "walk", much like a fashion model parades a runway.
The Death and Life of Marsha P. Johnson
Web Link: available via Netflix
As she fights the tide of violence against trans women, activist Victoria Cruz probes the suspicious 1992 death of her friend Marsha P. Johnson.
Through Many Dangers: The Story of Gospel Music
Web Link: https://www.facebook.com/watch/?v=469282147567905
Documentary on the history of gospel church music from its West African slave roots to its widespread influence on popular music across the world today.
Maya Angelou: And Still I Rise
Web Link: https://gem.cbc.ca/media/maya-angelou-and-still-i-rise/s01e01
The story of iconic writer, poet, actress and activist Dr. Maya Angelou, whose life intersected with some of the most defining moments in America's recent history.
Enslaved; The Lost History of the Transatlantic Slave Trade
Web Link: https://gem.cbc.ca/media/enslaved/s01?cmp=DM_DOCS_FEED_GEMCARD_enslaved-series
Hollywood icon and activist Samuel L. Jackson goes on a personal odyssey to explore the history of the transatlantic slave trade. Over 12 million African people were trafficked over centuries. Roughly two million died en route. In this 6-part series, a team of investigative journalists and divers locate and explore long-lost slave shipwrecks, collecting and documenting the artifacts left behind.

Audio
Podcast: The Black History Buff
Web Link: https://www.blackhistorybuff.com/
The Black History Buff podcast is a fun and thrilling journey through time. Covering the full historical tapestry of the African Diaspora, you'll hear tales covering everything from African Samurai to pistol-wielding poets. More than just a podcast, the show is a bridge that links communities throughout the African diaspora and enlightens and empowers its friends.
Podcast: Louder than a Riot
Web Link: https://www.npr.org/podcasts/510357/louder-than-a-riot
Rhyme and punishment go hand in hand in America. Louder than a Riot reveals the interconnected rise of hip-hop and mass incarceration. From Bobby Shmurda to Nipsey Hussle, each episode explores an artist's story to examine a different aspect of the criminal justice system that disproportionately impacts Black America.

More Podcasts
Code Switch
Yo is the Racist
Black on the Air
Party Lines
Pop Chat-Commotion with Elamin Abdemahmoud
Movies
Wakanda Forever
Woman King
I Wanna Dance with Somebody
Aftershock
Till
Honk for Jesus Save your Soul
Nope
A Jazzman's Blues
Alice
Black Adam
Breaking

TV
Abbot Elementary
A Black Lady Sketch Show
Atlanta
Bel-Air
Strange New Worlds
Women of the Movement
Resource Collections
Naturally: Black Hair Journeys & Stories
Web Link: https://guides.tricolib.brynmawr.edu/c.php?g=1038510&p=7530793
A library guide that highlights the beauty and significance of textured hair, also known as natural hair or Black hair. This Library guide was created because there are far too few conversations and not enough awareness about the impact of natural hair
Amber Valley – the First Black Settlement in Alberta
A member of our community has strong ties to Amber Valley, the first black settlement in Alberta. In their words: "It was first settled by 40 families including the Bowens and my great great great grandfather, Columbus Bowen. My family and the other settlers were fleeing Jim Crow laws and discrimination in Oklahoma (and others from Texas) and in search of a better life – but they were met with a lot of discrimination when they arrived. In response to this wave of black migrants, the Canadian government tried to limit and even drafted a Order to ban black immigration for a year (the Order did not proceed). Two years ago, Canada Post commemorated this history with a stamp."
YouTube video:
https://www.youtube.com/watch?v=OxXJubB2cPQ
Web links:
https://albertashistoricplaces.com/2015/02/12/african-american-immigration-to-alberta/
https://www.cbc.ca/news/canada/edmonton/canada-post-honours-black-community-of-amber-valley-alta-with-new-stamp-1.5880680
https://www.cbc.ca/news/canada/edmonton/black-settlement-alberta-amber-valley-1.5900836
https://en.wikipedia.org/wiki/Amber_Valley,_Alberta