55+ Programs and Highlights
Fall Programs
View all of our 55+ Programs in our Fall 2022 Program Guide.
Highlights
Cedar Hat Weaving
Learn how to create a woven cedar hat using techniques handed down over thousands of years. Though most hats will follow traditional shapes, there is room for creative interpretation with guidance from Todd and skilled volunteers. Each participant will have access to the tools and cedar warps and wefts to complete their own Cedar Hat.
Set 1 - Click here to reigister
Thu     1:30-3:30pm     Sep 8-Oct 27      CFEC    $40/8 sess
Set 2 - Click here to register
Thu      1:30-3:30pm    Nov 3-Dec 22     CFEC    $40/8 sess
Ukulele Seasonal Chorus (55yrs+)
Play an array of seasonal Christmas tunes. Basic ukulele chord understanding and some experience needed. Beginner lessons will be offered again next season. Click here to register.
Tue      2:00-3:30pm     Nov 15-Dec 20   55+ Centre    Free    Jane
Ukulele Sing-Along (All ages)
A gathering of senior and Elder ukulele players for a monthly sing-along in the beautiful Carving Centre. We welcome folks of all ages, including those who simply want to sing. Click here to register.
Wed      1:30-3:00pm    Sep 28    Carving Centre    Free    Jane
Monday Soup (55yrs+)
Monday lunches are back! Join us for a warm and welcoming homemade soup lunch. A place to rest your feet a while, meet a friend, and enjoy a quiet space for a quick lunch. Pay at the Pool or Info Centre and bring your receipt to the 55+ Centre. No session Oct 10 and Sep 19
Mon      12:00-1:00pm   Sep 26-Dec 12   55+ Centre   $3.50/drop-in
Creative Communities in a Global Pandemic
We're thrilled to be part of Doing It For Love: Five Stories from Creative Communities in a Global Pandemic, presented by the Vancouver Park Board's Arts, Culture & Engagement team.
2022 Arts & Health Showcase - What are you hungry for?
Featuring Britannia's Cedar Hat Weaving group and Quirkie. For more information, visit the Healthy Aging Through the Arts website.
Groups
Weaving Our Community Together

Weaving our Community Together (WOCT) brings Indigenous youth, elders and other community members together for mutual sharing, learning, connecting and growing. For more information, visit the WOCT page here.

 

Quirk-e

Quirk-e (the Queer Imaging & Riting Kollective for Elders) is one of the founding Parks Board Arts & Health projects. Members have worked together for the last 15 years to produce an electric and eclectic mix of artistic productions that have included: theatre, imagery, digital storytelling, spoken word and writing. If you're interested in joining this group, please contact Anne at .

Friday Wellness
Chair Yoga
Chair yoga is an accessible gentle seated practice designed to help you feel more energized and calm. We'll explore simple and easy movements to mobilize your whole body, breath work to calm the nervous system, and other brain and mood stimulating techniques to help you feel more connected with ease. Please come in comfortable clothes, socks and shoes.
Fri    12:15-1:15pm     55+ Centre    Free (registration required)
Friday Social Café
Afternoon social, friendly drop-in for a cup of tea or coffee. A game of cards, chat, or work on your crafting projects, everyone is welcome.
Fri       2:00-4:00pm      55+ Centre     Free (drop-in)
Great Movies at Britannia
Everyone is welcome to attend our movie series every Sunday evening. See below for the schedule. Doors open at 5:45pm. (No Movies Oct 9 & Nov 13)
Sun 6:00-9:00pm         Sep 11-Dec 11             55+ Centre       Free*
420406 *Registration required.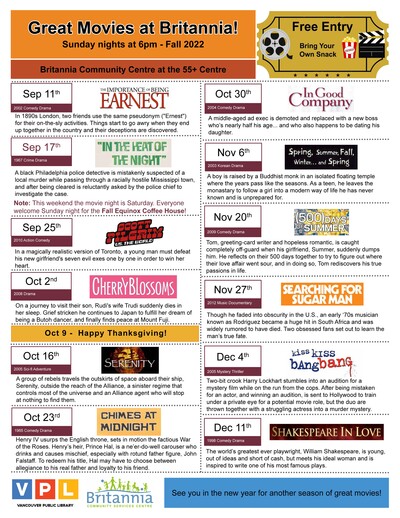 (Click on image for larger view)
Contact
If you have any questions please give us a call at the Info Centre 604.718.5800 (1) or the 55+ Centre 604.718.5837.
| |