55+ Programs and Highlights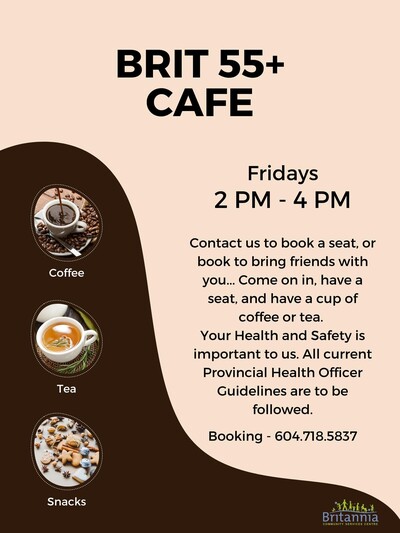 Friday with Seniors Podcast Series
Tune in! Every month Seniors Services Society of BC will be airing a podcast in a series called Fridays with Seniors hosted by Dr. Peter Legge from Canada Wide Media. Each podcast will take a deeper look into the lives of seniors in BC, rooting out deeply personal issues including housing, navigation of timely supports and services, mental wellness, emergency services, elder abuse, finances, taxes, and digital literacy.
https://www.seniorsservicessociety.ca/blog/fridays-with-seniors/
Spring Programs
View all of our 55+ Programs in our Spring 2022 Program Guide.

Britannia Groups
HATTA: Healthy Aging Through the Arts

If you would like to join HATTA: Cedar Hat Weaving online, please fill out a Letter of Interest and email it to or drop off a completed form at Britannia Community Centre (c/o Kya Prince). This class is taught by instructor Todd DeVries via Zoom.

Registration will only be accepted through a filled out Letter of Interest. This information is kept entirely confidential by the Britannia 55+ Staff. Only fill out what you are comfortable with, and you may opt out of the photo release form (we will then ask you to turn off video for photos and recordings).

 

Weaving Our Community Together

Weaving our Community Together (WOCT) brings Indigenous youth, elders and other community members together for mutual sharing, learning, connecting and growing. For more information, visit the WOCT page here.

 

Quirk-e

Quirk-e (the Queer Imaging & Riting Kollective for Elders) is one of the founding Parks Board Arts & Health projects. Members have worked together for the last 15 years to produce an electric and eclectic mix of artistic productions that have included: theatre, imagery, digital storytelling, spoken word and writing. If you're interested in joining this group, please contact Anne at .

Friday Wellness
Chair Yoga
Chair yoga is an accessible gentle seated practice designed to help you feel more energized and calm. We'll explore simple and easy movements to mobilize your whole body, breath work to calm the nervous system, and other brain and mood stimulating techniques to help you feel more connected with ease. Please come in comfortable clothes, socks and shoes.
Set 2
Fri    12:15-1:15pm    Feb 25-Apr 1
55+ Centre    Free*    384696

Contact
If you have any questions please give us a call at the Info Centre 604.718.5800 (1) or the 55+ Centre 604.718.5837.
| |