Resources
Health & Accessibility
Safe Seniors and Strong Community Program
Call 211 or visit bc211.ca for more information. This program offers COVID-19, emergency and crisis, counselling, victim services, housing, addiction, financial assistance and other resources.
VCH Vancouver Flu Clinics
For a list of clinics and how to make an appointment, click here.
BC Centre for Disease Control
Hotline: 1.833.707.2792
For their COVID-19 self assessment tool, click here.
HealthLink BC
Call 811 to speak to a health services representative who can help you find health information and services or connect you directly with health professionals, including: Registered Nurses, Dietitians, and Pharmacists. 811 is not an emergency service. In the event of an emergency, call 911.
Income and Disability Assistance
Call 1.866.866.0800 or click here.
First Nations Health Authority
Visit their website here.
Seniors Advocates Office
Visit their website here.
Community News & Resources
Friday with Seniors Podcast Series
Tune in! Every month Seniors Services Society of BC will be airing a podcast in a series called Fridays with Seniors hosted by Dr. Peter Legge from Canada Wide Media. Each podcast will take a deeper look into the lives of seniors in BC, rooting out deeply personal issues including housing, navigation of timely supports and services, mental wellness, emergency services, elder abuse, finances, taxes, and digital literacy. For more information and to listen in, click here.
YMCA Free Computer Literacy and Digital Skills
Workshops and one-on-one support. For more information, click here. To set up an appointment call 604-306-0508 / 604-218-9651 or email .
Together We Stand: Queer Elders Speak Out
Quirk-e's latest publication is out now! Together We Stand: Queer Elders Speak Out is a collection of memoir, poetry, play-writing, graphic stories, travel tales, and political action stories from the experiences of 21 LGBTQ2S+ elders. The theme running throughout is how to build and maintain a queer writing, activist group that will give your voice space and support. Here's your chance to consider joining the telling of queer stories and the sharing of queer history as well as to enjoy ours. 
You can order it directly from the publisher at Lulu.com. It is available in print and as an eBook. You can also order Together We Stand: Queer Elders Speak Out from your favourite local bookstore.
COVID Comedies
Check out these short videos from Jill that might bring a little laughter and lift your spirits. Jill is a member of Britannia's creative and innovative Quirk-e. Thanks to Jill and her production crew for sharing your comedies with us!
View Self-isolation Spirits here.
View Self-isolation Blancmange here.
Choose to Move
Simple exercise and movement from home. To try this program recommended by UBC Pathways to Connections, click here.
Eagle Feather — Kazezemaka Myra Pierre's Story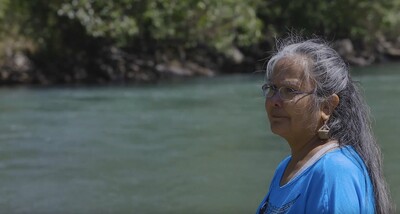 Kazezemaka Myra Pierre is a recipient of the DTES Small Arts Grants. Her collection of poetry, A Rising of Voices and Other Poems, is available now at the Vancouver Public Library. You can watch Kazezemzka's Story here.
COVID Stories
My 95 year old Neighbour
During the Heatwave and plans for re-opening we had been making extra calls to Elders and Seniors. One of those calls was to Jack and Irene Fitzgerald, long time members, of the 55+ Centre and Britannia family who have lived and thrived in the Grandview Woodland neighbourhood for decades. (That's a story for another time)
Happy to report that Irene said they were doing fine, family was well and that Jack was watching a video their neighbour had made.  "It's on Reddit", I could hear Jack shouting in the background.  Here it is, with another message of community, resilience and a wee bit of Elder Wisdom.
Watch The 95 Year Old Man Who Loves Full Speed Bike Rides.
For more resources, click here.