Britannia would like to assist those who are not able to afford the advertised cost of certain recreation programs; at the same time, our operation needs to be financially viable. Click here for our Subsidy Policy.
Celebrating Black History at Britannia
Check out our list of resources compiled by community, and an event focusing on Black history in our neighbourhood on Friday, February 24.
The Britannia Anti-Racism and Anti-Oppression Committee sent out a community call in January to put together a list of readings, films, resources, and other materials for folks to use to learn about Black history and culture. Our web site now has a page to easily share these suggested resources and hopefully there is  something for everybody to enjoy! Visit the page here www.britanniacentre.org/black-history-month
If you have a suggestion to add to our community resource list please email and let us know!
This month there will be a Black History Month celebration event on Friday, February 24 in partnership with VLACC!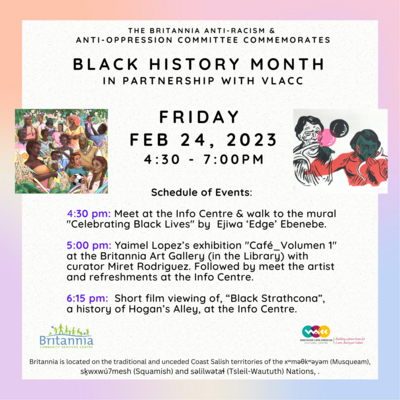 Schedule:
4:30pm: meet at the Info Centre and walk to the mural Celebrating Black Lives by Ejiwa 'Edge' Ebenebe.
5:00pm: Yaimel Lopez's exhibition at the Britannia Art Gallery (in the library) with curator Miret Rodriguez. Refreshments to follow.
6:15pm: Short film viewing of "Black Strathcona," a history of Hogan's Alley, at the Info Centre.
Post a Comment :
Comments are currently closed for this post.