Britannia would like to assist those who are not able to afford the advertised cost of certain recreation programs; at the same time, our operation needs to be financially viable. Click here for our Subsidy Policy.
Britannia Art Gallery: Call for Submissions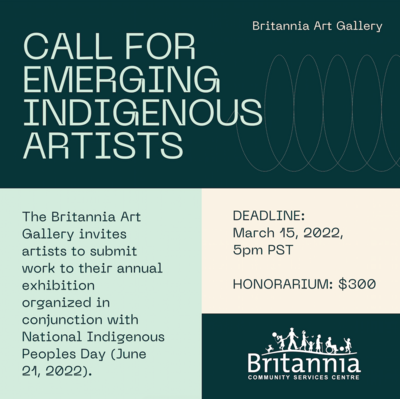 Call for Emerging Indigenous Artists 
Britannia Art Gallery
Deadline: March 15, 2022
 
In June of each year, the Britannia Art Gallery hosts an exhibition in conjunction with National Indigenous Peoples Day (June 21) that features work by Indigenous artists. This year, the gallery invites emerging Indigenous artists who are just starting out in their careers to submit work in the following mediums to be featured in the exhibition: 
2D work
Moving images (film/animation)
Small-scale 3D work to exhibit within the gallery's display case.
Honorarium: $300

WHO CAN APPLY?
This call is open to all emerging Indigenous artists. You do not need to live or work within Britannia's East Vancouver catchment to apply.

HOW TO APPLY
Read the full call for submissions details, visit: https://britanniaartgallery.weebly.com/submissions.html
Post a Comment :
Comments are currently closed for this post.