Britannia would like to assist those who are not able to afford the advertised cost of certain recreation programs; at the same time, our operation needs to be financially viable. Click here for our Subsidy Policy.
February Exhibition at the Britannia Art Gallery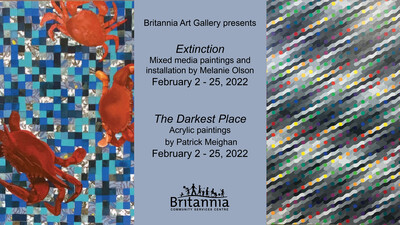 Visit the Britannia Art Gallery to see two new exhibitions this month!
Extinction, by Melanie Olson
February 2 - 25, 2022
The Darkest Place, by Patrick Meighan
February 2 - 25, 2022
To learn more, visit the gallery's website.