Britannia would like to assist those who are not able to afford the advertised cost of certain recreation programs; at the same time, our operation needs to be financially viable. Click here for our Subsidy Policy.
Britannia Renewal: Upcoming Fall Engagement Opportunities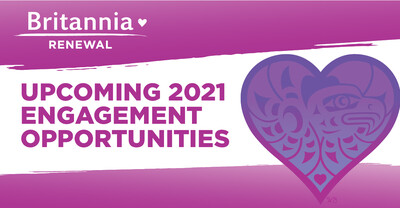 Join us to learn about the Britannia Renewal Master Plan and help us create a renewed Britannia that is inclusive, accessible and welcoming to all. More detailed Community Conversations about topics relating to height and density of future buildings, including non-market housing units will happen during the Site-Options phase in winter/spring 2022.

B-LAB DROP-IN: NON-MARKET HOUSING
B-LAB Britannia Information Centre (in-person)
September 20 | 4 - 7 pm
September 21 | 3 – 6pm 
Drop-in to ask a housing planner questions about the considerations for the addition of non-market housing at a Renewed Britannia.
COMMUNITY CONVERSATIONS: SITE-WIDE PROGRAMMING
Gym D (in-person)
September 23 | 6:30 – 8:30pm 
Join us for a presentation on the programs and services that?are proposed for the renewed site, and then share your thoughts.
COMMUNITY CONVERSATIONS: B-LAB DROP-IN
B-LAB Britannia Information Centre (in-person)
October 6 | 4 – 7pm 
Drop-in to ask a project team member questions you have about the Renewal process, learn about other community perspectives, and find out how to get involved in the project moving forward.
Find out more & register to attend at:
shapeyourcity.ca/britannia-renewal
Need help registering or have questions? Visit our website or contact the Britannia Information Centre at 604-718-5800.