Britannia would like to assist those who are not able to afford the advertised cost of certain recreation programs; at the same time, our operation needs to be financially viable. Click here for our Subsidy Policy.
Quirk-e's Latest Publication
Quirk-e is a Queer Imaging and Riting Kollective for Elders experimenting with language, printed text, graphics, digital imagery, spoken word, and performance.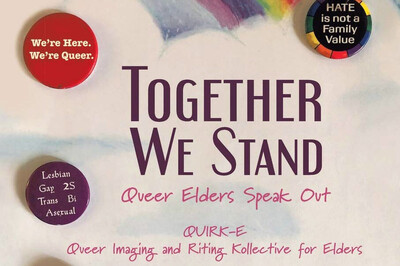 Together We Stand: Queer Elders Speak Out
is a collection of memoir, poetry, play-writing, graphic stories, travel tales, and political action stories from the experiences of 21 LGBTQ2S+ elders. The theme running throughout is how to build and maintain a queer writing, activist group that will give your voice space and support. Here's your chance to consider joining the telling of queer stories and the sharing of queer history as well as to enjoy ours. 
You can order it directly from the publisher at Lulu.com. It is available in print and as an eBook. You can also order Together We Stand: Queer Elders Speak Out from your favourite local bookstore.

 
Post a Comment :
Comments are currently closed for this post.