Canoe Bench by Randall Bear Barnetson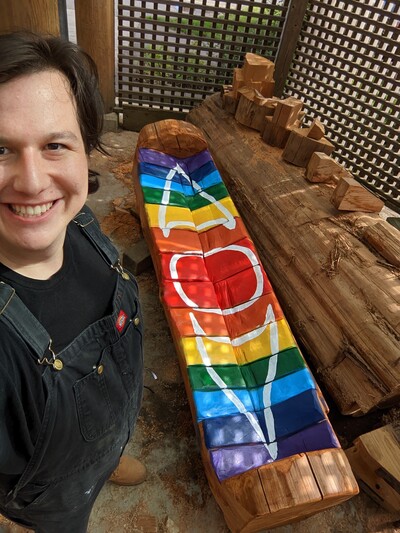 In August 2021, Randall Bear Barnetson began working on-site to transform a 6ft cedar log into a public seating structure. The piece was part of a residency at the Carving Centre that commissioned the construction and installation of 3 seating benches from donated cedar logs. Over the course of the bench's completion, Randall hosted open studio hours and artist talks with classes from Britannia Secondary School.
The Britannia Secondary School outgoing class of 2022 Student Council was invited to select the final location for Randall's bench, considering their ongoing advocacy for LGBTQIA2S+ and Indigenous students.
Artist Statement
"This canoe bench project has been very close to my heart as I grew up on Commercial Drive and attended Britannia Elementary. I grew up being involved in numerous programs and events that Britannia offered, so being able to give back to the community has been an absolute joy.
My hope was to create a bench that resembled a canoe—more specifically, one of the traditional canoes of my Dakelh people. Dakelh translates to 'The people who travel on the water.'
Britannia Community Centre was a safe space for me growing up, so I wanted to share my experience of acceptance and safety with others. My hope being that as individuals sit on the canoe bench, they would also feel a sense of safety and inspiration on their life journey; that my story of hope, healthiness, and healing would be passed on to whomever interacts with this canoe bench.
It has been incredibly empowering to be able to come back all these years later and use my artistic ability and career to share my story of inclusion, acceptance, and hope with the community I grew up in. Snachaliya—thank you for everything you have done for me."
Bio
Randall Bear Barnetson is a multidisciplinary Indigenous artist from the village of Nadleh Whut'en, the Dakelh nation, and of the Duntem'yoo Bear clan. Bear's artistic practice interprets matters of modernity such as mental health and wellbeing, identity, culture, and spirituality, through the framework of Northwest Coast Indigenous art forms. Bear's art and traditional storytelling has aided in reconciliation and decolonization efforts with settler organizations in discussing Indigenous culture and heritage.
Bear was born and raised in the urban Indigenous community of Commercial Drive in Vancouver BC. Bear spent years serving alongside his parents who founded a thriving mission on the 100 block of Hastings that provided essential services to over two million members of the Downtown Eastside Community.
Much of Bear's formative years were spent as a musician alongside his mother, multinational award-winning singer/songwriter Cheryl Bear. As an artist and storyteller, Bear has travelled to and partnered with over six hundred Indigenous Communities across North America, and over fifteen countries around the globe.
Bear's practice is currently based on the Unceded Territories of the Tsawwassen First Nation community, as a guest. Bear is enrolled in his Bachelor of Arts in Critical + Cultural Theory at Emily Carr University of Art and Design.
Follow Randall on Instagram to see more of his work: