Orange Shirt Day
Wear your orange shirt on September 30 and join us as we honour survivors of residential schools and their families on the National Day for Truth and Reconciliation.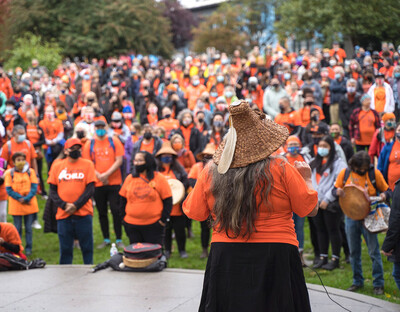 Schedule
9:00am
Assemble outside Vancouver Aboriginal Community Policing
Centre (1719 Franklin Street).
9:45am
Walk to Grandview Park.
10:30am
Ceremony at Grandview Park.
11:00am-2:00pm
Activities (lunch, drum circle, crafting & sharing).
Orange Shirts
We have orange shirts available by donation at the Britannia Info Centre. The suggested donation is $20. All proceeds go to the Indian Residential School Survivors Society. We have two designs: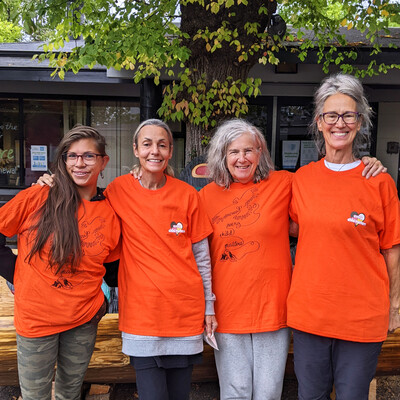 Thank-you to community members Stormy, Kai, Helen and Amelia for modelling the shirts! Stormy helped out with the wood burning on the Whale Family Bench by carver-in-residence Simon Daniel James.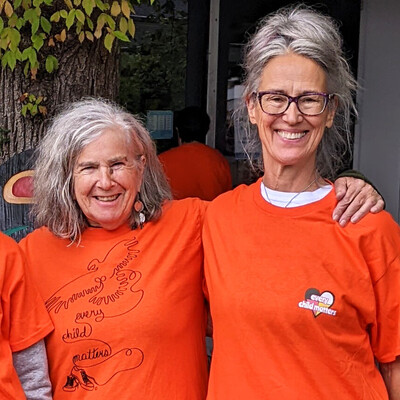 Resources
Britannia's Anti-Racism and Anti-Oppression Committee sent out a community call this summer to put together a list of readings, films, resources and other materials for non-Indigenous community members to use to learn about residential schools and reconciliation.
Please explore and share these resources on your journey to reconciliation.
Readings
21 Things You May Not Know About the Indian Act by Bob Joseph
Five Little Indians by Michelle Good
Indian Horse by Richard Wagamese
A Fire Burns Within, Teachings from Ceremony and Culture by Sharon L. Acoose, PhD
Seven Fallen Feathers, Racism Death, and Hard Truths in Northern City by Tanya Talaga
Unsettling Spirit, A Journey into Decolonization by Denise M Nadeau
Permanent Astonishment by Tomson Highway
Him Standing by Richard Wagamese
The Wound is A World by Billy-Ray Belcourt
North End Love Songs by Katherena Vermette
Johnny Appleseed by Joshua Whitehead
Green Grass, Running Water by Thomas King
Life in the City of Dirty Water by Clayton Thomas-Muller
Standoff: Why Reconciliation Fails Indigenous People and How to Fix It by Bruce McIvor
The North-West Is Our Mother: The Story of Louis Riel's People, the Métis Nation by Jean Teillet
Braiding Sweetgrass by Robin Wall Kimmell
Perma Red by Debra Magpie
Red Paint by Sasha taqʷšəblu LaPointe
Teaching to Transgress: Education as the Practice of Freedom by bell hooks
Pedagogy of the Oppressed by Paolo Friere
Decolonizing Education: Nourishing the Learning Spirit by Marie Battiste

Readings for Children + Youth (+ everyone!)
The Orange Shirt Story by Phyllis Webstad (6-9yrs)
When We Were Alone by David A Robertson (4-8yrs)
My Name is Seepeetza by Shirley Sterling (9-12yrs)
I am Not A Number by Jenny Kay Dupuis (7-11yrs)
When We Play Our Drums, They Sing! by Monique Gray Smith & Richard Van Camp (9-13yrs)
The Marrow Thieves by Cherie Dimaline (13yrs+)
Articles, Reports, and Fact Sheets
Films
Podcasts and Audio Listening
Education Resources
Resources Suggested by Community Members