Mother's Day Traditional Pow Wow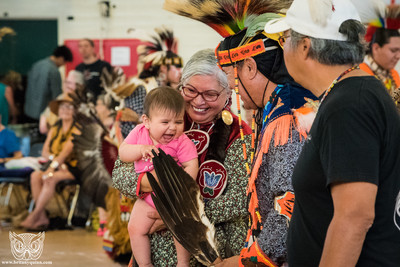 Established in the summer of 1984, the Mother's Day Traditional Pow Wow has been a fixture in Vancouver's Urban Indigenous community for 36 years.
Note: Due to Covid-19 the 2020 Mother's Day Pow Wow was cancelled.
May 8 - 10, 2020
The event was initiated by the local Indigenous community and the Cedar Cottage Neighbourhood House with support from the City of Vancouver. The event grew rapidly from a small family night gathering to a three-day celebration attended by thousands from across the province and the country, and was blessed to receive many visitors who had travelled internationally.
The Pow Wow theme is Honour and Uplift Women and Life-givers in the Community. The major focus of this event is the continuity and strengthening of advocacy and awareness surrounding Violence Against Women and Girls (VAWG) and Missing and Murdered Indigenous Women and Girls (MMIWG).
The Pow Wow provides a celebration space for the local community (and all in attendance) to learn, share, and experience the rich, diverse cultural teachings of Urban Indigenous peoples, while building stronger community connections. There will be cultural exhibitions and performances throughout the weekend (special dance competitions TBA). This event is free, with donations being accepted at the door. We welcome everyone and look forward to sharing this fun, family-friendly event.
Vendors
The Pow Wow committee will ensure that only quality authentic Indigenous crafts are sold or exhibited, including: fashion, painting and drawing, beading, dreamcatchers, jewelry, prints, carving, statuettes, and everything in between.
Exhibitors
Organizations, educational institutions, industry, public agencies and government departments are encouraged to apply. Preference is given to those who demonstrate a concerted effort to tailor materials to strengthening advocacy and awareness about VAWG and MMIWG.
Vendor & Exhibitor Registration
Registration opens Feb 10, 2020. Space is limited! For more information, or to book a table, please contact vancouverpowwow@gmail.com or 604.718.5862.
Full Weekend

3 full days, Fri-Sun

May 8-10

Pow Wow Only

2 full days, Sat-Sun

May 9-10

Artists/Vendors: $250/1 table
Indigenous/Non-profit orgs: $600/1 table
Governments/Universities: $1500/1 table
Artists/Vendors: $200/1 table
Indigenous/Non-profit orgs: $500/1 table
Governments/Universities: $1000/1 table

Exhibitor fees (per table) include:
One 6′ table with tablecloth, two chairs, a logo on the MDTP web page, inclusion in the social
media campaign, the opportunity to connect with up to 5,000 attendees.
Community Call to Action: Join the 2020 Pow Wow Committee!
We would like to extend an invitation and call our community together. We would be honored to have you join us for a 2020 Pow Wow Committee meeting. Britannia remains keen on enriching our event planning practices by consulting with our community and benefiting from the different lenses that our diverse community will bring to the discussion. Send your RSVP and any questions to vancouverpowwow@gmail.com.
Committee meetings take place every three weeks on Wednesdays at 10:0am in the Conference Room in the Info Centre. The next meetings are April 1 & 22, May 13, and Jun 3.