Britannia would like to assist those who are not able to afford the advertised cost of certain recreation programs; at the same time, our operation needs to be financially viable. Click here for our Subsidy Policy.
Britannia Events Calendar
Volunteer Garden Work Party – Decolonizing the Garden!
Mar 26, 2023 10:00 am - Mar 26, 2023 1:00 pm
Location: šx?q?el?w?n ct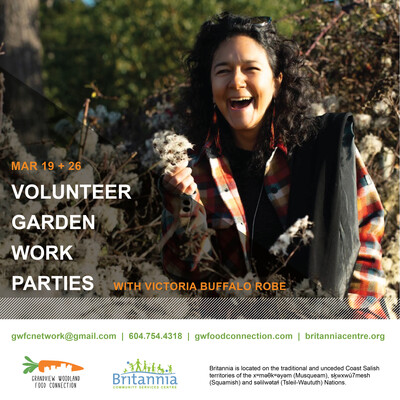 On Sunday, March 26th, we'll be removing invasive species in the šxʷqʷeləwən ct (One heart, one mind) Garden, which is located just outside the Carving Pavilion. This will be a great opportunity for folks to get to know some native plants and contribute towards the stewardship of our Indigenous garden. All the plants in this garden are native and have cultural (food, medicinal, household) uses…. Except for the ones we will be removing.  Join us in decolonizing the garden from 10 am to 1 pm.
Sun                       10 am – 1 pm     Mar 26
šxʷqʷeləwən ct                Victoria

Events
Mar 1, 2023 7:15 pm - Mar 1, 2023 9:50 pm

Mar 5, 2023 6:00 pm - Mar 5, 2023 9:00 pm

Everyone is welcome to attend our movie series Sunday evenings in the 55+ Centre.


Mar 8, 2023 7:15 pm - Mar 8, 2023 9:50 pm

Mar 10, 2023 4:30 pm - Mar 10, 2023 8:30 pm

Mar 12, 2023 6:00 pm - Mar 12, 2023 9:00 pm

Everyone is welcome to attend our movie series Sunday evenings in the 55+ Centre.


Mar 15, 2023 7:15 pm - Mar 15, 2023 9:50 pm