Britannia would like to assist those who are not able to afford the advertised cost of certain recreation programs; at the same time, our operation needs to be financially viable. Click here for our Subsidy Policy.
Britannia Events Calendar
Family Swim to Survive
Feb 20, 2023 1:00 pm - Feb 20, 2023 5:00 pm
Location: Britannia Pool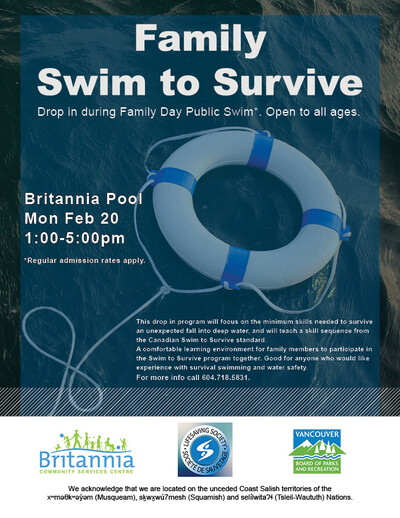 This drop in program will focus on the minimum skills needed to survive an unexpected fall into deep water, and will teach a skill sequence from the Canadian Swim to Survive standard.
A comfortable learning environment for family members to participate in the Swim to Survive program together. Good for anyone who would like experience with survival swimming and water safety. 
For more information call Britannia Pool at 604-718-5831

Events
Feb 1, 2023 7:15 pm - Feb 1, 2023 9:50 pm

Feb 5, 2023 6:00 pm - Feb 5, 2023 9:00 pm

Everyone is welcome to attend our movie series Sunday evenings in the 55+ Centre.


Feb 8, 2023 7:15 pm - Feb 8, 2023 9:50 pm

Feb 10, 2023 6:30 pm - Feb 10, 2023 9:00 pm

Location:

CFEC - 1665 William St

Feb 12, 2023 6:00 pm - Feb 12, 2023 9:00 pm

Everyone is welcome to attend our movie series Sunday evenings in the 55+ Centre.


Feb 14, 2023 2:00 pm - Feb 14, 2023 3:30 pm

Location:

Outside Elementary School