Britannia would like to assist those who are not able to afford the advertised cost of certain recreation programs; at the same time, our operation needs to be financially viable. Click here for our Subsidy Policy.
Britannia Events Calendar
Beyond the Blue Box Recycling
Mar 18, 2023 9:00 am - Mar 18, 2023 12:00 pm
Location: Northwest corner of Parking Lot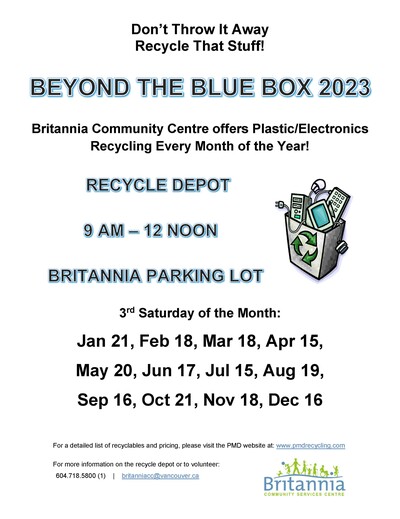 What Do We Recycle and at What Cost?
 * Hard & Soft Plastics and Styrofoam - (bags, bubble wrap, children's toys, plastics wrappings and packaging, etc.) foil-lined bags, tetra paks, gable-top cartons (eg. milk and juice cartons), plant pots and Styrofoam.
By volume:  Regular garbage bag $4
                    Large garbage bag $8
* Electronic Waste
- Servers and laptops – Free
- Wires & Cables – Free (Excluding coaxial cables $1/lb)
  -Other electronics/small appliances $3 small/ $6 large
* Bike tires/tubes - $1/tube, $10 bagged (36"x48")
* Infant/ Child Car Seats
- $12 – you dismantle it (fabric, metal, foam, plastic separated), or $20 – we dismantle it for you!
* Free – Lightbulbs & batteries of all sizes
For a more detailed and comprehensive list,
please visit the PMD website at:
For more information on recycle depot or to volunteer:

Events
Jun 4, 2023 6:00 pm - Jun 4, 2023 9:00 pm

Everyone is welcome to attend our movie series Sunday evenings in the 55+ Centre.


Jun 8, 2023 12:00 pm - Jun 8, 2023 3:00 pm

Location:

Carving Pavilion

Jun 11, 2023 1:00 pm - Jun 11, 2023 4:00 pm

Location:

Carving Pavilion

Jun 11, 2023 6:00 pm - Jun 11, 2023 9:00 pm

Everyone is welcome to attend our movie series Sunday evenings in the 55+ Centre.


Jun 15, 2023 12:00 pm - Jun 15, 2023 3:00 pm

Location:

Carving Pavilion

Jun 16, 2023 7:00 pm - Jun 16, 2023 10:00 pm