Britannia would like to assist those who are not able to afford the advertised cost of certain recreation programs; at the same time, our operation needs to be financially viable. Click here for our Subsidy Policy.
Britannia Events Calendar
Britannia-GWAC School and Park Board Candidates Public Forum
Oct 2, 2022 6:00 pm - Oct 2, 2022
Location: Britannia Secondary Cafeteria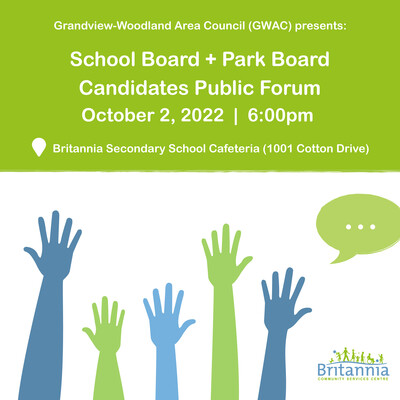 Join your School and Park Board candidates
for a world cafe style rotating conversation.
Community participants will have the opportunity to move between tables over several rounds to meet with local candidates and discuss issues.
Our confirmed attendees include:
Carla Frenkel and Aaron Leung, Vision
Rocco Trigueros and Chris Livingstone, COPE
Tricia Riley and Lois Chan-Pedley, Green Party
Jennifer Reddy and Serena Jackson, OneCity
James Buckshon and Matiul Alam, TEAM
Scott Jenson and Preeti Faridkot, A Better City
Dave Pasin and Nadine Frenkel, NPA
 
Our regular October GWAC Public Forum is cancelled in favour of our Candidates Forum. 

Events
Mar 1, 2023 7:15 pm - Mar 1, 2023 9:50 pm

Mar 5, 2023 6:00 pm - Mar 5, 2023 9:00 pm

Everyone is welcome to attend our movie series Sunday evenings in the 55+ Centre.


Mar 8, 2023 7:15 pm - Mar 8, 2023 9:50 pm

Mar 10, 2023 4:30 pm - Mar 10, 2023 8:30 pm

Mar 12, 2023 6:00 pm - Mar 12, 2023 9:00 pm

Everyone is welcome to attend our movie series Sunday evenings in the 55+ Centre.


Mar 15, 2023 7:15 pm - Mar 15, 2023 9:50 pm