Britannia would like to assist those who are not able to afford the advertised cost of certain recreation programs; at the same time, our operation needs to be financially viable. Click here for our Subsidy Policy.
Britannia Events Calendar
City Council Candidates Public Forum
Sep 26, 2022 7:00 pm - Sep 26, 2022 9:00 pm
Location: Gym D
On September 26, the Grandview-Woodland Area Council (GWAC) and Britannia will be hosting your Vancouver City Council candidates for a world café style public forum at 7:00pm in Gym D.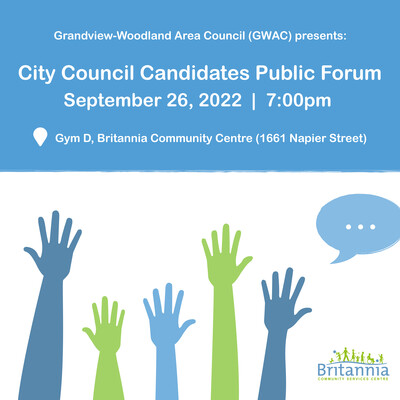 Community participants will have the opportunity to move between tables over several rounds to meet with local candidates and discuss issues.
Our confirmed attendees include:
Jean Swanson and Breen Ouellette from COPE
Pete Fry and Michael Wiebe from the Green Party
Cinnamon Bhayani and Ken Charko from the NPA
Ian Cromwell from OneCity
Param Nijjar and Sean Nardi from TEAM
Lesli Boldt and Stuart Mackinnon from Vision

Events
Jun 4, 2023 6:00 pm - Jun 4, 2023 9:00 pm

Everyone is welcome to attend our movie series Sunday evenings in the 55+ Centre.


Jun 8, 2023 12:00 pm - Jun 8, 2023 3:00 pm

Location:

Carving Pavilion

Jun 11, 2023 1:00 pm - Jun 11, 2023 4:00 pm

Location:

Carving Pavilion

Jun 11, 2023 6:00 pm - Jun 11, 2023 9:00 pm

Everyone is welcome to attend our movie series Sunday evenings in the 55+ Centre.


Jun 15, 2023 12:00 pm - Jun 15, 2023 3:00 pm

Location:

Carving Pavilion

Jun 16, 2023 7:00 pm - Jun 16, 2023 10:00 pm