Britannia would like to assist those who are not able to afford the advertised cost of certain recreation programs; at the same time, our operation needs to be financially viable. Click here for our Subsidy Policy.
Britannia Events Calendar
Magical Quirk-e Tour
Jun 11, 2022 2:00 pm - Jun 11, 2022 4:00 pm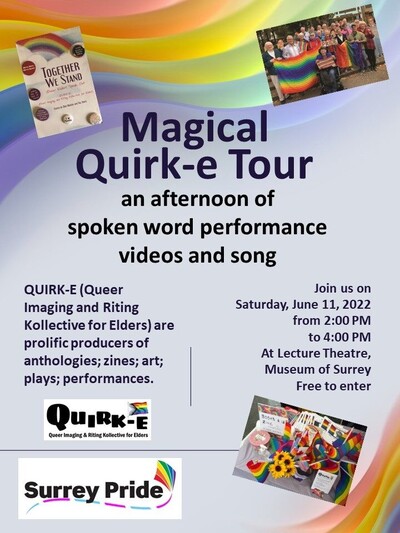 Magical Quirk-e Tour
Saturday, June 11, 2022 | 2-4pm
Lecture Theatre, Museum of Surrey
FREE
Join Quik-e for an afternoon of spoken word, performance, videos and song as part of Surrey Pride!
QUIRK-E (Queer Imagining and Riting Kollective for Elders) are prolific producers of anthologies, zines, art, plays and performances. 

Events
Mar 1, 2023 7:15 pm - Mar 1, 2023 9:50 pm

Mar 5, 2023 6:00 pm - Mar 5, 2023 9:00 pm

Everyone is welcome to attend our movie series Sunday evenings in the 55+ Centre.


Mar 8, 2023 7:15 pm - Mar 8, 2023 9:50 pm

Mar 10, 2023 4:30 pm - Mar 10, 2023 8:30 pm

Mar 12, 2023 6:00 pm - Mar 12, 2023 9:00 pm

Everyone is welcome to attend our movie series Sunday evenings in the 55+ Centre.


Mar 15, 2023 7:15 pm - Mar 15, 2023 9:50 pm