Britannia would like to assist those who are not able to afford the advertised cost of certain recreation programs; at the same time, our operation needs to be financially viable. Click here for our Subsidy Policy.
Britannia Events Calendar
Free Gardening Workshop for Youth (10yrs+) with Pablo Vimos
Jun 4, 2022 1:00 pm - Jun 4, 2022 2:00 pm
Location: Teen Centre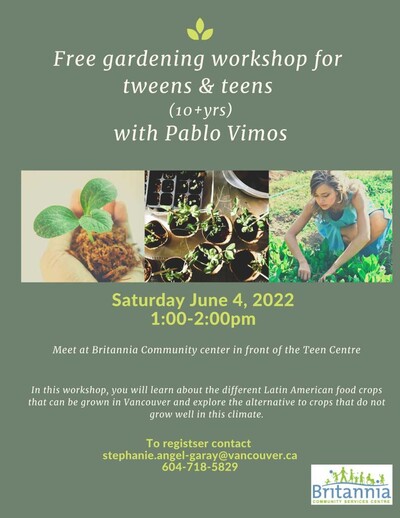 In this workshop, you will learn about the different Latin American food crops that can be grown in Vancouver and explore the alternative to crops that do not grow well in this climate.
The workshop will begin in front of the Britannia Teen Centre.
To register, contact Stephanie Angel-Garay:
stephanie.angel-garay@vancouver.ca
604.718.5829

Events
Mar 1, 2023 7:15 pm - Mar 1, 2023 9:50 pm

Mar 5, 2023 6:00 pm - Mar 5, 2023 9:00 pm

Everyone is welcome to attend our movie series Sunday evenings in the 55+ Centre.


Mar 8, 2023 7:15 pm - Mar 8, 2023 9:50 pm

Mar 10, 2023 4:30 pm - Mar 10, 2023 8:30 pm

Mar 12, 2023 6:00 pm - Mar 12, 2023 9:00 pm

Everyone is welcome to attend our movie series Sunday evenings in the 55+ Centre.


Mar 15, 2023 7:15 pm - Mar 15, 2023 9:50 pm