Britannia would like to assist those who are not able to afford the advertised cost of certain recreation programs; at the same time, our operation needs to be financially viable. Click here for our Subsidy Policy.
Britannia Events Calendar
Parade of Lost Souls
Oct 30, 2021 7:00 pm - Oct 30, 2021 10:00 pm
Location: Around Britannia Site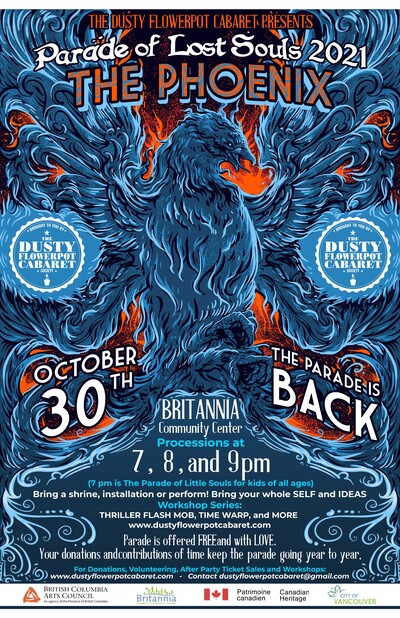 Visit www.dustyflowerpotcaberet.com for full details.

Events
Sep 3, 2022 11:00 am - Sep 3, 2022 7:00 pm

Location:

Britannia Courtyard

Sep 3, 2022 12:00 pm - Sep 3, 2022 4:00 pm

Location:

Napier Greenway

Sep 3, 2022 12:00 pm - Sep 3, 2022 4:00 pm

Location:

Britannia Plaza

Sep 7, 2022 3:00 pm - Sep 7, 2022 7:00 pm

Location:

Britannia Plaza

Sep 10, 2022 12:00 pm - Sep 10, 2022 4:00 pm

Location:

Britannia Plaza

Sep 10, 2022 1:00 pm - Sep 10, 2022 3:00 pm