Britannia would like to assist those who are not able to afford the advertised cost of certain recreation programs; at the same time, our operation needs to be financially viable. Click here for our Subsidy Policy.
Britannia Events Calendar
West Coast Family Day
Oct 2, 2021 12:00 pm - Oct 2, 2021 6:00 pm
Location: Britannia Gravel Field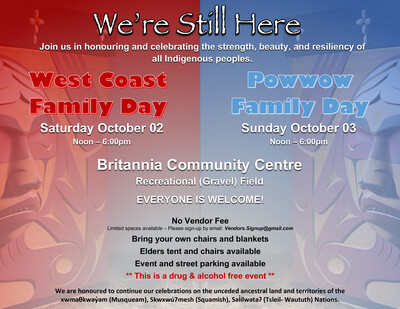 We're very excited to be supporting West Coast Family Day on October 2 and Powwow Family Day on October 3 on the Britannia Gravel Field!


Everyone is welcome to come and join us as we honour and celebrate the strength and resilience of all Indigenous peoples and uplift community spirits after Orange Shirt Day.

There will be bagged lunches and soup each day, while quantities last.

This event is rain or shine! We will have tents set up for the dance floor, seating, and vendors. Bring your own chair if you can!

There will be free vending tables, but please contact in advance to book a table and let us know whether you need a half table or full table.

Please help to keep your fellow community members safe. Stay home if you aren't feeling well.

Events
Jun 4, 2023 6:00 pm - Jun 4, 2023 9:00 pm

Everyone is welcome to attend our movie series Sunday evenings in the 55+ Centre.


Jun 11, 2023 6:00 pm - Jun 11, 2023 9:00 pm

Everyone is welcome to attend our movie series Sunday evenings in the 55+ Centre.


Jun 16, 2023 7:00 pm - Jun 16, 2023 10:00 pm

Jun 17, 2023 9:00 am - Jun 17, 2023 12:00 pm

Location:

Northwest corner of Parking Lot

Jun 17, 2023 1:00 pm - Jun 17, 2023 8:00 pm

Jun 18, 2023 1:00 pm - Jun 18, 2023 5:00 pm