Britannia would like to assist those who are not able to afford the advertised cost of certain recreation programs; at the same time, our operation needs to be financially viable. Click here for our Subsidy Policy.
Britannia Events Calendar
Great Movies at Britannia
Sep 26, 2021 6:00 pm - Sep 26, 2021 9:00 pm
Location: 55+ Centre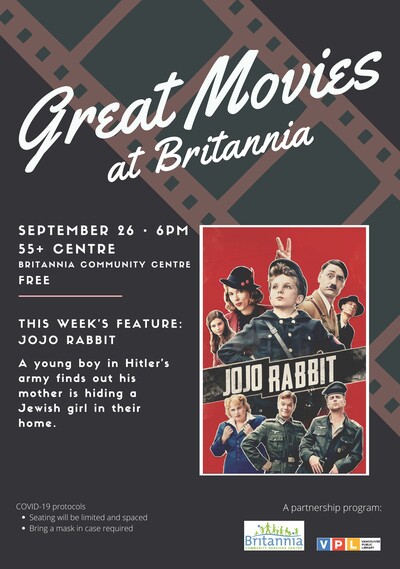 Come check out other Great Movies this season!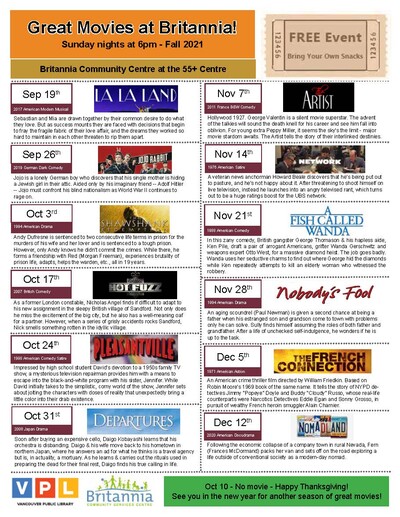 (Click on image for larger view.)

Events
Mar 1, 2023 7:15 pm - Mar 1, 2023 9:50 pm

Mar 5, 2023 6:00 pm - Mar 5, 2023 9:00 pm

Everyone is welcome to attend our movie series Sunday evenings in the 55+ Centre.


Mar 8, 2023 7:15 pm - Mar 8, 2023 9:50 pm

Mar 10, 2023 4:30 pm - Mar 10, 2023 8:30 pm

Mar 12, 2023 6:00 pm - Mar 12, 2023 9:00 pm

Everyone is welcome to attend our movie series Sunday evenings in the 55+ Centre.


Mar 15, 2023 7:15 pm - Mar 15, 2023 9:50 pm