Britannia would like to assist those who are not able to afford the advertised cost of certain recreation programs; at the same time, our operation needs to be financially viable. Click here for our Subsidy Policy.
Britannia Events Calendar
Orange Shirt Day
Sep 30, 2021 9:00 am - Sep 30, 2021 2:00 pm
Location: VAFC & Grandview Park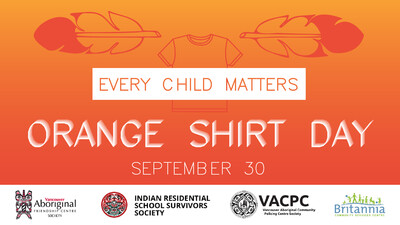 In partnership with the Indian Residential School Survivor Society (IRSSS), the Vancouver Aboriginal Friendship Centre (VAFC), and the Vancouver Aboriginal Community Policing Centre (VACPC).
We are gathering with Elders and their families on Orange Shirt Day. We invite you all to join us on this important day to help raise awareness about residential schools and their lasting impact on Indigenous peoples. Every Child Matters. Wear your orange shirt in support. RSVP to the Facebook event here.
Schedule
9:00am - Assemble at the Vancouver Aboriginal Friendship Centre (1607 East Hastings Street)
9:45am - Walk to Grandview Park
10:30am - Ceremony at Grandview Park. Introduction and welcome by Annie Danilko and guest speaker Kat Norris.
11:00am - Nisga'a Elders testimony, followed by activities (lunch, drum circle, crafting and sharing)
A support worker from the IRSSS will be available during the event to provide support to survivors and their families.
Help keep the community safe by social distancing and wearing a mask when necessary.

Events
Jun 4, 2023 6:00 pm - Jun 4, 2023 9:00 pm

Everyone is welcome to attend our movie series Sunday evenings in the 55+ Centre.


Jun 8, 2023 12:00 pm - Jun 8, 2023 3:00 pm

Location:

Carving Pavilion

Jun 11, 2023 1:00 pm - Jun 11, 2023 4:00 pm

Location:

Carving Pavilion

Jun 11, 2023 6:00 pm - Jun 11, 2023 9:00 pm

Everyone is welcome to attend our movie series Sunday evenings in the 55+ Centre.


Jun 15, 2023 12:00 pm - Jun 15, 2023 3:00 pm

Location:

Carving Pavilion

Jun 16, 2023 7:00 pm - Jun 16, 2023 10:00 pm