Britannia would like to assist those who are not able to afford the advertised cost of certain recreation programs; at the same time, our operation needs to be financially viable. Click here for our Subsidy Policy.
Britannia Events Calendar
Britannia Renewal - Community Conversations: What We're Hearing
Jun 1, 2021 6:30 pm - Jun 1, 2021 9:00 pm
Location: Zoom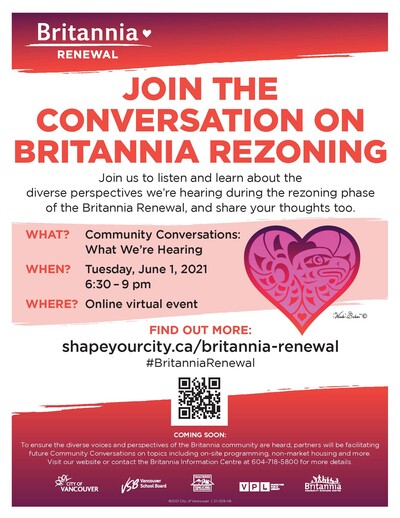 Join us on June 1 to listen and learn about the diverse perspectives we're hearing during the rezoning phase of the Britannia Renewal. Then, take part in a small group discussion where you can share your thoughts too!
This virtual event will also feature a creative break with a performance from a Britannia artist, and presentations from the project team on Britannia Renewal's background and progress to date.
Click here to join the event on June 1st at 6pm
(or go to zoom.us in your browser, click "Join a Meeting" and enter
Meeting ID: 894 0048 0304)
No registration required!
The event will also be livestreamed on the City of Vancouver Facebook page.
Stay tuned for future Community Conversations on topics such as on-site programming, non-marketing housing and more!
More details: shapeyourcity.ca/britannia-renewal

Events
Mar 1, 2023 7:15 pm - Mar 1, 2023 9:50 pm

Mar 5, 2023 6:00 pm - Mar 5, 2023 9:00 pm

Everyone is welcome to attend our movie series Sunday evenings in the 55+ Centre.


Mar 8, 2023 7:15 pm - Mar 8, 2023 9:50 pm

Mar 10, 2023 4:30 pm - Mar 10, 2023 8:30 pm

Mar 12, 2023 6:00 pm - Mar 12, 2023 9:00 pm

Everyone is welcome to attend our movie series Sunday evenings in the 55+ Centre.


Mar 15, 2023 7:15 pm - Mar 15, 2023 9:50 pm