Britannia would like to assist those who are not able to afford the advertised cost of certain recreation programs; at the same time, our operation needs to be financially viable. Click here for our Subsidy Policy.
Britannia Events Calendar
Free Tree Giveaway!
Feb 26, 2021 3:15 pm - Feb 26, 2021 6:45 pm
Location: Pick up at Pool
Be a part of our Greening Our Neighbourhood event by getting a free tree sapling to plant!
Various pick up times available on Feb 24th, 26th and 27th.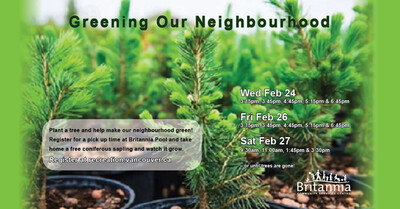 Join us in a physically distant community greening program! Britannia Community Arts has obtained over 300 native species seedlings from the BC Recreation & Parks Association, to give away for free in our neighbourhood. If you have outdoor space in a yard, community garden, balcony, planter or window box, please register to pick one up as we endeavour to scatter these throughout our neighbourhood. They are easy to care for and attract pollinators!

Pick up is as scheduled below, at the pool office. Please register for a free pick-up time that works for you, one per household. Planting and care guides are included with each seedling.

Some information about the seedlings:
•  All three of the plants to choose from are native to Coastal British Columbia. They will all   do well year-round our climate and growing conditions.
•  You can plant any of these seedlings in the ground on your private property, or in a pot on your patio.
•  Both types of shrubs produce berries in the summer, and can be planted in your Green Streets garden. Please do not plant tall trees in Green Streets gardens.
•  Early spring (mid-February to mid-April), once the ground is no longer frozen, is the best time to plant trees and shrubs!
•  If you are not able to plant your seedlings right away, please store in a cool dark location and keep the roots moist.

Sitka Spruce (Picea sitchensis) – Full sun to part shade. Moist soil, high in organic matter. Fast growing tree is suitable for lowlands. Tolerates sea spray. Mature height to 45m (150ft) so plant in an open area away from buildings and infrastructure, or in a pot for a bonsai effect – do not plant in Green Streets gardens. First Nations people used roots from Sitka spruce to weave hats, baskets, mats, and rope. They also used the sticky sap for waterproofing and glue. Caution: Blue-green needles may be sharp to touch.

Thimbleberry (Rubus parviflorus) – Full sun to part shade. Moist, well-drained soil. Named for its distinct thimble-shaped edible red berries. Indigenous peoples harvested these berries for food both fresh and dried, and used the leaves for teas and to line baskets. Has large maple-like leaves that can form a dense understory canopy. Useful for habitat restoration and riparian/streamside zones. Mature height and spread to 3m (10ft). Can be cut back each year.

Salal (Gaultheria shallon) – Full sun to part shade. Moist, acidic soil. Water regularly in first year of establishment, especially during hot dry summers. Broadleaf evergreen groundcover/shrub with masses of white or pink flowers. Plentiful edible blue berries in the summer and fall were a major food source for B.C. First nations as they can be dried and turned into cakes. You can make fruit leathers at home by blending the berries until smooth, and then spreading them flat on a pan and drying them in the oven or the sun. First Nations people also lined cooking pits with the branches/leaves of salal to provide flavouring. Mature height typically to about 1m (3 ft).

Register for one of these available pick up times:

(Activity numbers linked to recreation.vancouver.ca)

Wed Feb 24th

3:15pm - 322113

3:45pm - 322114

4:45pm - 322115

5:15pm - 322116

6:45pm - 322117

Fri Feb 26th

3:15pm - 322570

3:45pm - 322571

4:45pm - 322572

5:15pm - 322573

6:45pm - 322574

Sat Feb 27th

9:30am - 322604

11:00am - 322610

1:45pm - 322611

3:30pm - 322612

 



 

Events
Mar 1, 2023 7:15 pm - Mar 1, 2023 9:50 pm

Mar 5, 2023 6:00 pm - Mar 5, 2023 9:00 pm

Everyone is welcome to attend our movie series Sunday evenings in the 55+ Centre.


Mar 8, 2023 7:15 pm - Mar 8, 2023 9:50 pm

Mar 10, 2023 4:30 pm - Mar 10, 2023 8:30 pm

Mar 12, 2023 6:00 pm - Mar 12, 2023 9:00 pm

Everyone is welcome to attend our movie series Sunday evenings in the 55+ Centre.


Mar 15, 2023 7:15 pm - Mar 15, 2023 9:50 pm