Britannia would like to assist those who are not able to afford the advertised cost of certain recreation programs; at the same time, our operation needs to be financially viable. Click here for our Subsidy Policy.
Britannia Events Calendar
Outdoor Programs
Starting on August 6, 2020 we're offering in-person outdoor programs. You can view our programs on the Vancouver Recreation site; to view Britannia's programs, select 'Britannia Community Centre' in the location section of the search filters. More programs may be posted in early August. Online registration for our outdoor programs opens on August 4, 2020. Phone-in registration opens on August 5, 2020 at 10:00am.
Sound Walking
Aug 31, 2020 10:00 am - Aug 31, 2020 11:00 am
Location: Britannia site
Sound Walk - Walking is a great way to explore our city, improve your health, fitness and happiness levels.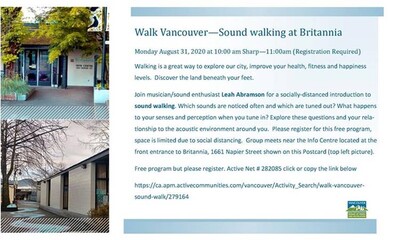 Join musician/sound enthusiast Leah Abramson for a socially-distanced introduction to soundwalking. Which sounds are noticed often and which are tuned out? What happens to your senses and perception when you tune in? Explore these questions and your relationship to the acoustic environment around you. A map and soundwalk guide will be emailed to participants before the walk. Please register for this free program, space is limited due to social distancing.
Group meets near the Information Centre entrance at Britannia and departs at 10:00am sharp.
Free program but please register.

Events
Sep 1, 2020 2:00 pm - Sep 1, 2020 7:00 pm

Location:

Britannia Plaza

Britannia's biweekly market featuring local produce from Fractal Farms.

Sep 1, 2020 5:30 pm - Sep 1, 2020 6:30 pm

Location:

Carving Centre and Zoom

Sep 3, 2020 2:00 pm - Sep 3, 2020 7:00 pm

Location:

Britannia Plaza

Britannia's biweekly market featuring local produce from Fractal Farms.

Sep 5, 2020 11:00 am - Sep 5, 2020 4:00 pm

Location:

Britannia Plaza

Sep 8, 2020 2:00 pm - Sep 8, 2020 7:00 pm

Location:

Britannia Plaza

Britannia's biweekly market featuring local produce from Fractal Farms.

Sep 8, 2020 5:30 pm - Sep 8, 2020 6:30 pm

Location:

Carving Centre and Zoom