Britannia would like to assist those who are not able to afford the advertised cost of certain recreation programs; at the same time, our operation needs to be financially viable. Click here for our Subsidy Policy.
Britannia Events Calendar
Outdoor Programs
Starting on August 6, 2020 we're offering in-person outdoor programs. You can view our programs on the Vancouver Recreation site; to view Britannia's program, select 'Britannia Community Centre' in the location section of the search filters. More programs may be posted in early August. Online registration for our outdoor programs opens on August 4, 2020. Phone-in registration opens on August 5, 2020 at 10:00am.
East Van Science and Maker Jamboree
Jan 25, 2020 10:00 am - Jan 25, 2020 4:00 pm
Location: Gym D
Get our of the rain and shake out your winter blues. Come enjoy some fun science and maker activities for all ages from multiple organizations including:
Science World, Genome BC, Repair Cafe, Vancouver Hack Space, Open Science Network, Geering Up, Vancouver Public Library and many more!
Free! All ages welcome!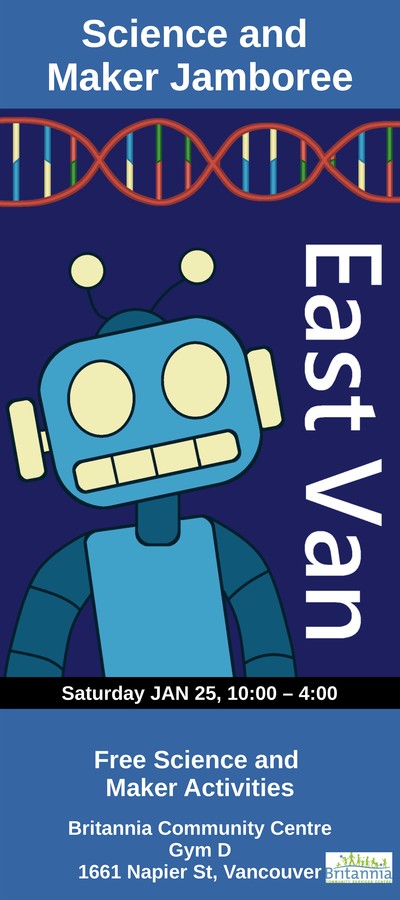 Events
Aug 4, 2020 2:00 pm - Aug 4, 2020 7:00 pm

Location:

Britannia Plaza

Aug 5, 2020 12:00 pm - Aug 5, 2020 1:00 pm

Aug 6, 2020 2:00 pm - Aug 6, 2020 7:00 pm

Location:

Britannia Plaza

Aug 7, 2020 3:00 pm - Aug 7, 2020 4:00 pm

Aug 11, 2020 2:00 pm - Aug 11, 2020 7:00 pm

Location:

Britannia Plaza

Aug 11, 2020 5:30 pm - Aug 11, 2020 6:30 pm

Location:

Carving Centre and Zoom