Britannia would like to assist those who are not able to afford the advertised cost of certain recreation programs; at the same time, our operation needs to be financially viable. Click here for our Subsidy Policy.
Britannia Events Calendar
East Van Science and Maker Jamboree
Jan 25, 2020 10:00 am - Jan 25, 2020 4:00 pm
Location: Gym D
Get our of the rain and shake out your winter blues. Come enjoy some fun science and maker activities for all ages from multiple organizations including:
Science World, Genome BC, Repair Cafe, Vancouver Hack Space, Open Science Network, Geering Up, Vancouver Public Library and many more!
Free! All ages welcome!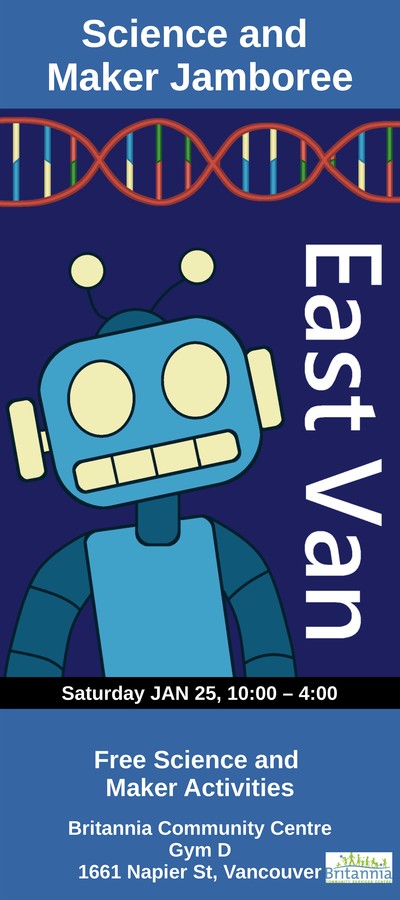 Events
Jun 4, 2023 6:00 pm - Jun 4, 2023 9:00 pm

Everyone is welcome to attend our movie series Sunday evenings in the 55+ Centre.


Jun 11, 2023 6:00 pm - Jun 11, 2023 9:00 pm

Everyone is welcome to attend our movie series Sunday evenings in the 55+ Centre.


Jun 16, 2023 7:00 pm - Jun 16, 2023 10:00 pm

Jun 17, 2023 9:00 am - Jun 17, 2023 12:00 pm

Location:

Northwest corner of Parking Lot

Jun 17, 2023 1:00 pm - Jun 17, 2023 8:00 pm

Jun 18, 2023 1:00 pm - Jun 18, 2023 5:00 pm