Britannia would like to assist those who are not able to afford the advertised cost of certain recreation programs; at the same time, our operation needs to be financially viable. Click here for our Subsidy Policy.
Britannia Events Calendar
In Honour of Our Brothers
Jan 26, 2020 12:00 pm - Jan 26, 2020 4:00 pm
Location: Gym D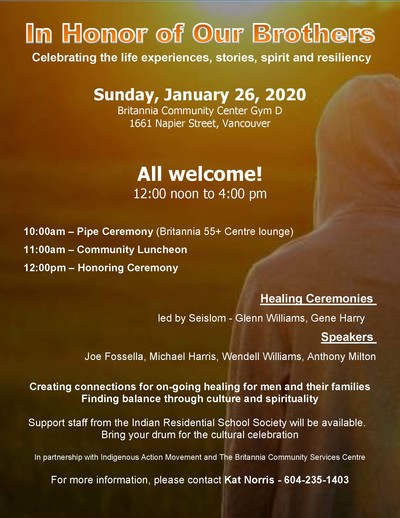 The goal of In Honour of Our Brothers is to bring awareness to key issues men deal with and to celebrate and honour their life experiences, stories, spirit and resilience; to help find balance through culture and spirituality; and to create connections to resources for on-going healing for men and their families. All welcome!
There will be a Salish opening at noon, followed by a luncheon, panel speakers, healing ceremony, cultural celebration, and a giveaway.
Ceremonies led by Sislom-Glenn WIlliams, Gene Harry, and Bruce Robinson.
Support staff from the Indian Residential School Society will be available.
Bring your drum!

Events
Mar 1, 2023 7:15 pm - Mar 1, 2023 9:50 pm

Mar 5, 2023 6:00 pm - Mar 5, 2023 9:00 pm

Everyone is welcome to attend our movie series Sunday evenings in the 55+ Centre.


Mar 8, 2023 7:15 pm - Mar 8, 2023 9:50 pm

Mar 10, 2023 4:30 pm - Mar 10, 2023 8:30 pm

Mar 12, 2023 6:00 pm - Mar 12, 2023 9:00 pm

Everyone is welcome to attend our movie series Sunday evenings in the 55+ Centre.


Mar 15, 2023 7:15 pm - Mar 15, 2023 9:50 pm