Britannia would like to assist those who are not able to afford the advertised cost of certain recreation programs; at the same time, our operation needs to be financially viable. Click here for our Subsidy Policy.
Britannia Events Calendar
Outdoor Programs
Starting on August 6, 2020 we're offering in-person outdoor programs. You can view our programs on the Vancouver Recreation site; to view Britannia's program, select 'Britannia Community Centre' in the location section of the search filters. More programs may be posted in early August. Online registration for our outdoor programs opens on August 4, 2020. Phone-in registration opens on August 5, 2020 at 10:00am.
Beyond the Blue Box Recycling
Aug 15, 2020 9:00 am - Aug 15, 2020 12:00 pm
Location: Northwest corner of Parking Lot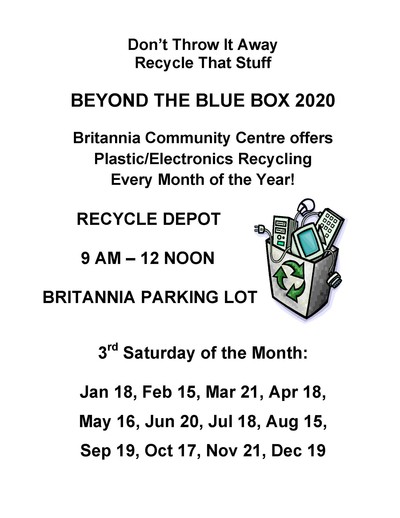 What Do We Recycle and at What Cost?
 * Hard & Soft Plastics and Styrofoam - (bags, bubble wrap, children's toys, plastics wrappings and packaging, etc.) foil-lined bags, tetra paks, gable-top cartons (eg. milk and juice cartons), plant pots and Styrofoam.
By volume:  Regular garbage bag $3.50 
                    Large garbage bag $7.00
* Electronic Waste
- Servers and laptops – Free
- Wires & Cables – Free (Excluding coaxial cables $1/lb)
  -Other electronics/small appliances $2.50 small/ $5 large
* Bike tires/tubes - $0.75/tube, $10 bagged (36"x48")
* Infant/ Child Car Seats
- $12 – you dismantle it (fabric, metal, foam, plastic separated), or $20 – we dismantle it for you!
* Free – Lightbulbs & batteries of all sizes
For a more detailed and comprehensive list,
please visit the PMD website at:
For more information on recycle depot or to volunteer:

Events
Aug 4, 2020 2:00 pm - Aug 4, 2020 7:00 pm

Location:

Britannia Plaza

Aug 5, 2020 12:00 pm - Aug 5, 2020 1:00 pm

Aug 6, 2020 2:00 pm - Aug 6, 2020 7:00 pm

Location:

Britannia Plaza

Aug 7, 2020 3:00 pm - Aug 7, 2020 4:00 pm

Aug 11, 2020 2:00 pm - Aug 11, 2020 7:00 pm

Location:

Britannia Plaza

Aug 11, 2020 5:30 pm - Aug 11, 2020 6:30 pm

Location:

Carving Centre and Zoom