Britannia would like to assist those who are not able to afford the advertised cost of certain recreation programs; at the same time, our operation needs to be financially viable. Click here for our Subsidy Policy.
Britannia Events Calendar
Art Gallery - Artist Workshop
Oct 20, 2019 11:00 am - Oct 20, 2019 4:00 pm
Location: Rink Mezzanine
Salmon People Bracelets - with Janey Cheng
Are you a descendant of salmon people? Salmon are kin for the Indigenous People of the rivers and coasts of this land. Salmon were also at the heart of cultures throughout Asia and northern Europe in ages past. Re-awaken your connection to the land and show your love for the salmon by creating a beautiful bracelet out of salmon leather that you tan yourself.
In the morning of this two-part workshop, artist Janey Cheng will discuss methods of skinning and fleshing fish, and lead participants through oil-tanning a salmon skin.
In the afternoon, she will help participants craft their own snap cuff or 'magic braid' bracelet out of their finished skin. All materials provided. Please come on time and bring your lunch!
238095     $20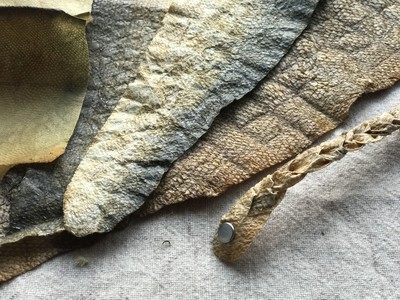 October exhibition runs Oct 2-Nov 1

Featuring:
"Tools for the Honourable Harvest" Natural materials by EartHand Gleaners Society

Events
Mar 1, 2023 7:15 pm - Mar 1, 2023 9:50 pm

Mar 5, 2023 6:00 pm - Mar 5, 2023 9:00 pm

Everyone is welcome to attend our movie series Sunday evenings in the 55+ Centre.


Mar 8, 2023 7:15 pm - Mar 8, 2023 9:50 pm

Mar 10, 2023 4:30 pm - Mar 10, 2023 8:30 pm

Mar 12, 2023 6:00 pm - Mar 12, 2023 9:00 pm

Everyone is welcome to attend our movie series Sunday evenings in the 55+ Centre.


Mar 15, 2023 7:15 pm - Mar 15, 2023 9:50 pm