Britannia would like to assist those who are not able to afford the advertised cost of certain recreation programs; at the same time, our operation needs to be financially viable. Click here for our Subsidy Policy.
Britannia Events Calendar
Youth Free Swim
Jun 7, 2019 8:00 pm - Jun 7, 2019 10:00 pm
Location: Britannia Pool
Climb the WIBIT! Contests, prizes, games and crazy staff!
Britannia Youth only swim time is the first Friday of every month. Free for youth 11-18yrs.
No public use of steam room or whirlpool at this time.
Be ready to go in the water by 8pm. Swimsuits or clean clothing can be worn. No shoes allowed.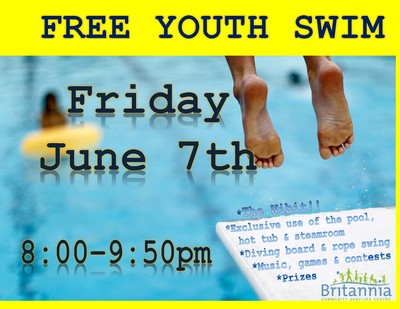 Events
Sep 3, 2022 11:00 am - Sep 3, 2022 7:00 pm

Location:

Britannia Courtyard

Sep 3, 2022 12:00 pm - Sep 3, 2022 4:00 pm

Location:

Napier Greenway

Sep 3, 2022 12:00 pm - Sep 3, 2022 4:00 pm

Location:

Britannia Plaza

Sep 7, 2022 3:00 pm - Sep 7, 2022 7:00 pm

Location:

Britannia Plaza

Sep 10, 2022 12:00 pm - Sep 10, 2022 4:00 pm

Location:

Britannia Plaza

Sep 10, 2022 1:00 pm - Sep 10, 2022 3:00 pm