Britannia would like to assist those who are not able to afford the advertised cost of certain recreation programs; at the same time, our operation needs to be financially viable. Click here for our Subsidy Policy.
Britannia Events Calendar
East Van Votes
Oct 12, 2018 6:30 pm - Oct 12, 2018 9:30 pm
Location: Strathcona Community Centre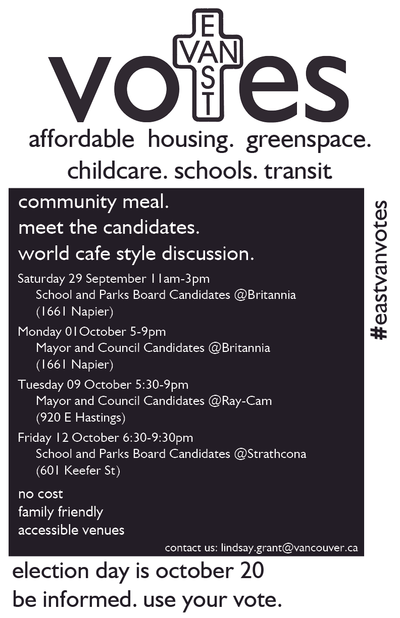 A series of events where community can gather for a family friendly meal and meet candidates looking for your vote for City Council, Park Board Commissioner and School Board Trustees.

The format will be that individuals and representative from each party will have an opportunity to speak for three minutes and then, after all these short speeches, the balance of the time will be spent at tables in dialogue with 10-15 community residents in several 15-minute sessions. . This is called the "world café" model. Each table will have a moderator and note taker, and the notes will be shared with our community through various platforms.

Dates to meet Mayor and City Council candidates:
• Monday Oct 1st at Britannia 5:00–9:00pm
• Wednesday Oct 9th at RayCam 5:30–9:00pm

Dates to meet School Board & Park Board candidates:
• Saturday Sept 29th at Britannia 11:00-3:00pm
• Friday Oct 12th at Strathcona 6:30-9:30pm

If you have any questions please do not hesitate to contact us through lindsay.grant@vancouver.ca.

Sincerely,

Aboriginal Life in Vancouver Enhancement Society (ALIVE)
Britannia Community Services Centre Society
East Van Seniors
Eastside Family Place
Grandview-Woodland Area Council
Inner City Safety Society
Kettle Friendship Society
Penny Street
RayCam Community Association


For candidates who would like to rsvp for these events, please email kathy.whittam@vancouver.ca.

Events
Jun 4, 2023 6:00 pm - Jun 4, 2023 9:00 pm

Everyone is welcome to attend our movie series Sunday evenings in the 55+ Centre.


Jun 11, 2023 6:00 pm - Jun 11, 2023 9:00 pm

Everyone is welcome to attend our movie series Sunday evenings in the 55+ Centre.


Jun 16, 2023 7:00 pm - Jun 16, 2023 10:00 pm

Jun 17, 2023 9:00 am - Jun 17, 2023 12:00 pm

Location:

Northwest corner of Parking Lot

Jun 17, 2023 1:00 pm - Jun 17, 2023 8:00 pm

Jun 18, 2023 1:00 pm - Jun 18, 2023 5:00 pm