Britannia would like to assist those who are not able to afford the advertised cost of certain recreation programs; at the same time, our operation needs to be financially viable. Click here for our Subsidy Policy.
Britannia Events Calendar
Reconciliation in Action 2018
Sep 25, 2018 2:00 pm - Sep 25, 2018 8:00 pm
Location: Britannia Plaza
Join the schools, groups and residents for the fourth annual Reconciliation in Action (RIA): Drive the Change Community Gathering and Celebration.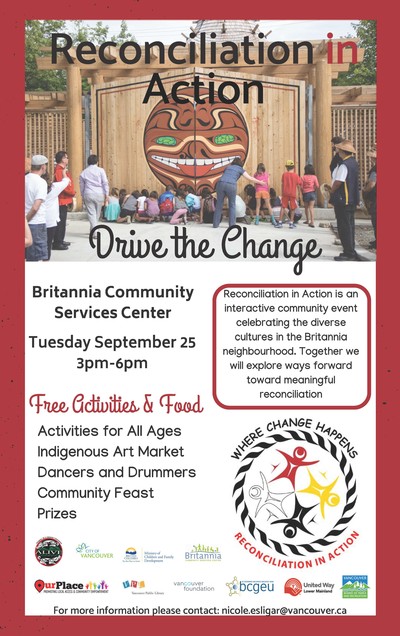 This event is an opportunity to explore the meaning of Reconciliation in multicultural Grandview-Woodland and Strathcona neighbourhoods. What role we have in making Reconciliation a reality. There will be interactive, fun and educational activities, cultural performances and a Community Feast and will feature the Our Place Community Accountability Pledge Signing Ceremony. Our Place is a broad coalition of community and government agencies in Vancouver who are coordinating efforts to help address the gaps in support for inner city youth, children and families at risk.

Events
Mar 1, 2023 7:15 pm - Mar 1, 2023 9:50 pm

Mar 5, 2023 6:00 pm - Mar 5, 2023 9:00 pm

Everyone is welcome to attend our movie series Sunday evenings in the 55+ Centre.


Mar 8, 2023 7:15 pm - Mar 8, 2023 9:50 pm

Mar 10, 2023 4:30 pm - Mar 10, 2023 8:30 pm

Mar 12, 2023 6:00 pm - Mar 12, 2023 9:00 pm

Everyone is welcome to attend our movie series Sunday evenings in the 55+ Centre.


Mar 15, 2023 7:15 pm - Mar 15, 2023 9:50 pm